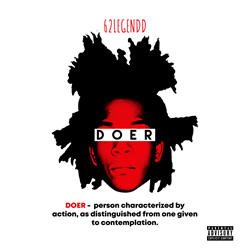 DOER
MIAMI (PRWEB) August 18, 2020
MLK Musiq Group Inc. presents 62 Legendd & his debut released album "DOER" produced by TT Beatz filled with 12 solid street influenced tracks. 62 Legendd has a full roll out for the DOER album & DOER movement, the DOER stand for (Dominion Over Earth Rulers) & represents doing all the things that an individual needs to do to for full their ambitions & dreams. Not just try but do!
The DOER album will start with two single releases the first is "MY SHINE" which is inspirational anthem for overcoming the adversities of the struggle & the trenches to always shine through any weather. 62 Legendd especially went in depth with this single after the death of his mother 3 months prior to the track.
The second single being released "Trenchez" that expresses the oppression in the inner cities of urban america. Trenchez & its heart felt melodic hook with his thought provoking lyrics.
The controversial DOER album with the cover art being the face of the late artist Jean-Michel Basquiat, 62 Legendd like Basquiat writes enigmatic epigrams in the cultural hotbeds. With a MLK boulevard across every city in America, 62 Legendd uses social commentary in his music as a tool to give insight & perspective into poverty, struggle & ambition.