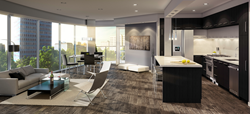 The protected views will be like no other in the city and the tower will be a landmark for luxury.
Edmonton, AB (PRWEB) October 06, 2014
Sara Jessie Real Estate Services (Jessie McCracken & Sara Jones, Sales Managers at Symphony Tower, and Realtors at RE/MAX River City) have sold a $2.625 Million, which is a MLS sales history record in Edmonton.
"The Symphony Tower project offers an uncompromising level of luxury and detail for residence which has really gained the attention of buyers," says Sara Jones. "It is quite unique in that pre-construction prices start at $295,000 for one bedroom condos, all the way up to the luxury penthouses over $2 Million; there's literally something for everyone's price range without having to sacrifice quality."
"The Symphony Tower project is now 40 percent sold with construction set to start in October 2014," says Jessie McCracken. "There are penthouses, condos, and townhomes for sale, with 25 European-inspired floor plans. Suites range from 611 sq. ft to 3,210 sq. ft. and some of the upper floors have large outdoor patios (up to 1,000 sq. ft) to add to the owner's living space. The details of most suites are customizable, which allows buyers to put a personal touch on their own unique masterpiece."
With expansive views through floor to ceiling glass windows, Symphony Tower residents will overlook the legislature dome and grounds, river valley and High Level Bridge. "The protected views will be like no other in the city and the tower will be a landmark for luxury," says Sherri Beauchamp, Advertising and Marketing Manager for the project.
"Pre-construction pricing for this one of a kind project will end with break ground in October 2014, so those waiting to see, need to take advantage of this rare opportunity before it's gone," says McCracken.
Symphony Tower is the only downtown Edmonton development in the river valley area offering condos, penthouses and town homes in the same tower. For more information about Symphony Tower, visit their website, http://symphonytower.ca or call the Sales Gallery at (780) 917-1296.
Related Search Phrases:
[MLS Record] [Symphony Tower] [Breaking News] [Edmonton Real Estate News] [Alberta News] [Penthouses for Sale]
Related Hashtags:
#MLS #BuyAHome #RealEstate #BreakingNews #Edmonton #Penthouses #Townhouses #Condominiums