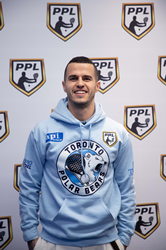 I am excited to be a part of the ownership group for the first Pro Padel League franchise in Canada. I look forward to the upcoming season with the Toronto Polar Bears. Sebastian Giovinco
TORONTO (PRWEB) March 22, 2023
Today, the Pro Padel League (PPL) – North America's first professional Padel league – is excited to announce that former Major League Soccer (MLS) Star and MLS Most Valuable Player, Sebastian Giovinco, has been named a Team Owner of the Toronto Polar Bears. The ownership group includes Josh Garr, President of a.p.i. ALARM Inc. – Canada's largest private Security Company offering residential and commercial security systems and surveillance systems. Joining Giovinco and Garr in the ownership group will be sports and entertainment industry veteran Rick Di Gironimo, CEO, Group of Companies, including Versus Sports Management & Entertainment and Versus Soccer League, Trio Sportsplex, and the Juventus Academy Toronto.
Giovinco, an Italian former professional soccer player who played as a forward, began his professional career with Italian club Juventus in Serie B in 2006. Signing with the Toronto FC in 2015, the deal made him the League's highest paid player. Among his trophies with the club are three Canadian Championships and the MLS Cup. Individually, he won the MLS Golden Boot, MLS Newcomer of the Year Award, MLS MVP Award, the George Gross Memorial Trophy for the most valuable player of the Canadian Championship, and the CONCACAF Champions League Golden Ball. Giovinco left the Toronto FC as the club's all-time top goal scorer. Later, in 2019, Giovinco joined Saudi Arabian club Al Hilal where he won the AFC Champions League in his first year with the team and the Saudi Pro League and King Cup in his second season. At the international level, Giovinco made his debut with the Italy senior side in 2011 and has since collected over 20 caps. He later took part at UEFA Euro 2012 where he won a runners-up medal. At the 2013 FIFA Confederations Cup, Giovinco won a bronze medal.
"I am excited to be a part of the ownership group for the first Pro Padel League franchise in Canada," said Sebastian Giovinco, Team Owner of the Toronto Polar Bears. "I look forward to the upcoming season with the Toronto Polar Bears."
The PPL's first Player Draft was held on March 20th and received approximately 500 hundred applications from top North American and international players from Australia, Asia, South America, the United Kingdom, and Europe. The PPL's inaugural season will kick-off in May of 2023 with seven teams and conclude with the PPL CUP in June of 2023 where the four best teams will compete for the title.
"It is an amazing opportunity to be involved from the ground level with the Pro Padel League and support the only Canadian team in one of the fastest growing sports in the world," commented Josh Garr, Team Owner of the Toronto Polar Bears. "We are honored to have Sebastian Giovinco and Rick Di Gironimo on our ownership team and be involved in growing Padel in Canada."
Joining the ownership group with Garr and Giovinco is Di Gironimo who is a sports and entertainment industry veteran. Since 1992, Di Gironimo has been convening, coordinating, and running leagues for soccer and ball hockey organizations in Ontario. In addition to owning and operating a soccer specialty store (which landed him a position as a national franchise chain retailer) and becoming a facility manager of a sports complex, in 2008 Di Gironimo started his own management company called Versus Sports Management & Entertainment (VSME) and Versus Soccer League. Still overseeing the operations today, VSME currently manages and operates the Adidas soccer fields in affiliation with Adidas Canada along with men's, women's, and youth leagues that have a total membership base of 5,000. Following this in 2010, Di Gironimo opened Trio Sportsplex (a 93,500 square foot complex) and, in 2017, he partnered with one of the biggest soccer clubs in the world, Juventus FC. Di Gironimo now owns and operates the Juventus Academy Toronto player development program along with Giovinco and together are taking the program to another level of professionalism. Later this year, Giovinco and Di Gironimo will be opening the first Padel courts in Toronto called T10 Padel.
"Sebastian and I are very excited to be a part of the Toronto Polar Bear ownership group. Our objective is to build a dynasty franchise and win the PPL Cup," added Di Gironimo, Team Owner of the Toronto Polar Bears.
The PPL's mission is to create a premier sports league providing a national stage for the sport while generating nationwide awareness and excitement for Padel. Something that has never been done before, the PPL will provide players and fans with a new platform that showcases Padel and grows participation in the sport.
Currently, Padel has over 25 million players worldwide and is growing in popularity in the U.S. with the number of Padel courts set to double in 2023. Over 8 million players are projected to be playing in the U.S. by 2030. The PPL will enable players, coaches, team owners, facility owners, broadcasters, fans, sponsors, and brands to all be involved in, and capitalize on, the sport's explosive growth.
Dedicated to celebrating Padel's Spanish roots, the League has made VAMOS the PPL's official slogan. For more information on the PPL, visit: https://propadelleague.com/. VAMOS!
About the Pro Padel League
The Pro Padel League (PPL) is North America's first professional Padel Teams league. The PPL's mission is to create a premier sports league providing a national stage for the sport while generating nationwide awareness and excitement for Padel as it continues to grow across North America. The PPL's high octane team competition will kick-off in May of 2023 with seven teams and conclude with the PPL CUP in June of 2023 where the four best teams will compete for the title. During the first season, teams will be comprised of four active players including two men, and two women, and four alternates, and will follow the international scoring format. For more information on the PPL, visit: https://propadelleague.com/