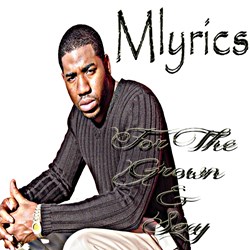 Mlyrics passion for making music shows in his set to release debut EP
Atlanta, GA (PRWEB) September 09, 2013
Hitmaker Maurice Carmon a.k.a "Mlyrics" and his label MM4u has partnered with startup independent record label ChannelPICK Entertainment to digitally release debut EP by Mlyrics titled "For the Grown & Sexy" on October 1, 2013. This is an EP that rhythm and blues lovers have been waiting for. "For the Grown & Sexy" captures the essence of an era in music that most bedroom connoisseur would agree was one of the best. That era in music being the 90s. The musical style of Mlyrics can be easily compared to the likes of R&B Icons Joe with a little of Carl Thomas.
Born and raised in Washington, D.C., Mlyrics began making music at the age of fourteen. Mlyrics is better known as the man behind the music for his talent in writing and producing for some of the best charting artists in the industry. As a writer/producer Mlyrics has had the pleasure of working with such musical legends as Snoop Dogg, Charlie Wilson, Whitney Houston, Britney Spears, K-CI (from K-CI & JoJo for his solo project), Jon B, Howard Hewart, O-Town, Chauncey Black (of BlackSteet for his solo project).
"For the Grown and Sexy" highlights renowned hitmaker's talent. Mlyrics passion for making music shows in his set to release debut EP. "For the Grown & Sexy" showcases the dynamic songwriting and musicianship of Mlyrics. The man behind the music has now taken center stage poised to reach new heights. His impressive collection of soulful hits on this EP will have you wanting to hear more from him.
Mlyrics new single can be listened to at https://soundcloud.com/channelpick/mlyrics-please-u and his debut EP will be available for purchase on iTunes, Amazon, Google Play as well as many other download/streaming music stores October 1, 2013. You can watch a music sampler of his EP at http://youtu.be/_0C4SJ5ciBs
For upcoming events, interview requests and/or more info on Mlyrics please contact:
Darian Drake
ChannelPICK Entertainment
Website: http://www.channelpickentertainment.com
Phone: (404) 436-1855
Email: dr(at)channelpickentertainment(dot)com