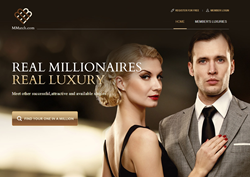 Toronto, Ontario (PRWEB) March 23, 2015
With 5.2 million people classified as millionaires in the U.S. as of 2013 – a ratio of approximately 1.6 percent of the total population – the demand for meeting eligible singles in this category has grown at an equally substantial rate.
When these statistics are taken into consideration, it is easy to understand how those seeking eligible single millionaires have encountered difficulties, made even worse by the unavoidable fact that the chances of meeting a single millionaire on one's own are virtually non-existent. In response have come niche-specific online dating sites such as Canada-based MMatch.com, designed from the ground up to make meeting and dating a millionaire easier while also catering to those who value success, physically attractive features and luxury-oriented lifestyles.
Marketed by its executives as "the best luxury dating site for successful, wealthy and attractive people," MMatch.com caters to wealthy men and their sexy female counterparts who are looking for their soul mates. Representatives of the online dating site make it clear that MMatch.com is not a portal geared towards attracting those seeking "sugar daddies" – or an arrangement-style relationship – and instead concentrates on helping certified millionaires meet other millionaires in an easy and safe way for serious, long-term relationships.
"We're a millionaire matchmaker, only serving the one-in-a-million – or those who want to date them," says MMatch.com's senior company representative. "We're glad to now set foot in the US market since we know there are more millionaires in the US than Canada. In a day and age when dating in general is becoming more difficult due to people's schedules and the way we're all technologically dependent, MMatch.com welcomes every American who's interested in meeting other eligible and successful singles."
Beyond a thoroughly intuitive search portal containing a database of rich singles for sexy, discriminating ladies and distinguished gentlemen to choose from, other MMatch.com benefits include free registration, certified millionaire confirmation protocols, live MM counselor, members' luxury collection listings, millionaire "date ideas", live support, forum and blog and much more.
Representatives of this millionaire dating site encourage those seeking their one-in-a-million to visit http://www.MMatch.com and sign up for a truly unforgettable experience.