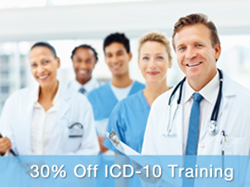 I have my entire staff training for ICD-10 with MMI. They offer training for Coders, Billers, Managers, Providers, and Clinical Staff.
(PRWEB) November 15, 2013
MMI will celebrate "Day of Thanks" on November 19th in honor of their valued members & alumni. On this day, the Coder, Manager, Biller, Provider, and Clinical Staff ICD-10 training paths will be 30% off!
Save the Date: Tuesday, November 19, 2013.
In this time of gratitude, MMI has put together a "Day of Thanks" promotion this month on Tuesday, the 19th where they will be offering their exceptional online ICD-10 training at a 30% discount! MMI is bringing back this promotion from last month due to the overwhelming results of their online member survey.
ICD-10 Training Highlights

Completely online & self-paced
Access to training until October 2014
Instructor support
Books & shipping Included
Interactive learning tools
Certificate issued
The Medical Management Institute (MMI) is the educational leader in medical billing & coding, auditing, and management training. With over 25 years experience and an alumni base of nearly 250,000 students, the Institute is confident our classes will provide the information you need.
Click here for more information on MMI's ICD-10 training and certification.
Click here for more information on MMI's "Day of Thanks" promotion.