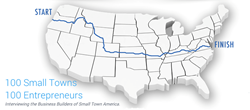 "The American dream used to mean a secure job with a large corporation, a house with a white picket fence and a car. Not Anymore. The new American dream is creating your own job in your own company and taking care of yourself for the rest of your life."
Salt Lake City, UT (PRWEB) April 28, 2014
My New Enterprise is all set to embark on a challenging mission to redefine the American Dream. Their upcoming venture is about biking 4,000 miles around the United States covering 100 cities to interview 100 small business owners. The project "Living the Dream on Main Street America: A 4,000 Mile Journey to Find Our Best Small-Town Entrepreneurs" will also include writing a book and producing a film series based on this journey. My New Enterprise is an organization dedicated to providing the most innovative and engaging resources to assist entrepreneurs create successful ventures. They are looking to raise $28,000 via Kickstarter to make My New Enterprise Tour 2014 a reality.
The project undertaken by My New Enterprise is extremely relevant in the present day American job market. According to the latest research, the advent of technology is destroying more jobs than it is creating. Experts fear that four out of five individuals will soon suffer from significant phases of unemployment during their career. Executive Director of the Clark Center for Entrepreneurship in the Jon M. Huntsman School of Business at Utah State University Michael J Glauser sums up the present scenario saying, "The American dream used to mean a secure job with a large corporation, a house with a white picket fence and a car. Not Anymore. The new American dream is creating your own job in your own company and taking care of yourself for the rest of your life."
My New Enterprise is working towards making a positive impact by highlighting this trend and offering surefire solutions to this growing concern by promoting entrepreneurship. Their planned book and film series will help people find a way to take control of their lives without relying on a corporate job. This project will focus on small town entrepreneurs because they can be the perfect role models in communities where the number of jobs is limited.
My New Enterprise has chosen Kickstarter as their funding platform because the company believes in working closely with their customers while creating new products and services. The proceeds from Kickstarter will be used to produce the book and the film series. All contributors to this campaign will gain early access to the book and exclusive access to the company website to view the film series. Also, there are a number of lucrative rewards for the backers.
To lend a helping hand to this unique initiative from My New Enterprise, please visit: https://www.kickstarter.com/projects/1140205981/367456610?token=e7b22020.
About My New Enterprise: My New Enterprise provides the most innovative and engaging resources available to help aspiring entrepreneurs and business builders create successful ventures. They help turn ideas into opportunities, opportunities into business models, and business models into thriving organizations.