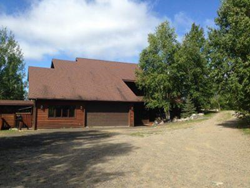 Ely, MN (PRWEB) October 08, 2014
At the spacious and peaceful Big Lake Wilderness Lodge/Retreat in Ely, Minnesota, a one-of-a-kind commercial real estate investment opportunity has presented itself. The actual resort itself is not for sale, but five lakefront cabins and nine vacant lots can be purchased in bulk as a commercial deal, or individually for those looking for a vacation property or a weekend getaway. The commercial potential for the cabins is tremendous; when used to rent out seasonally, monthly, weekly, or just for a weekend, they generate income with ease. As for the vacant lots, the sky is the limit -- the parcels of land are located on resort property.
At 4985 Big Lake Road Cabin 12 Unit 9 Ely, MN 55731 is the newly remodeled Reflections, which the Big Lake Lodge website touts as a studio lakeshore cabin. Sporting a pine interior, a wheelchair-accessible full bath, modern kitchen, and a large bedroom with a queen-size bed, Reflections is situated near the lodge on a piece of land with approximately 168 feet of Big Lake shoreline. Property is listed at $99,500 with an opening bid of $65,000 if no offer is received by the November 22 auction.
At the other end of the spectrum, on the western edge of the resort is a vacant parcel of land that faces south, has approximately 80 feet of shoreline, and offers stunning views of the Boundary Waters Canoe Area wilderness across Big Lake. The lot is pleasantly wooded and already has community electric, water, and septic utilities brought to the back of the property, leaving more than enough space to build your cabin of choice. Property is listed at $99,500 with an opening bid of $65,000 if no offer is received by the November 22 auction.
The highly motivated sellers of these properties have indicated that they plan to entertain early bids and offers. Buyers are most likely already researching these two properties, and coming to decisions about whether to make a purchase, so potential buyers are advised to act fast.
Interested parties should visit micoley.com to find more photos and details about the property, or by visiting in person and performing an inspection on site, which is highly recommended. (866) 371-3619 is Micoley.com's information line. Additionally, Micoley.com features a live chat service through which questions can be answered.
About Micoley.com:
Green Bay, Wisconsin-based Micoley.com is a real estate marketing firm specializing in project focused auctions of bank-owned properties throughout the United States. The Micoley.com approach to real estate marketing tailors each auction plan to the client's individual needs. The site is constantly being updated for the benefit of buyers, as large-scale auction events are held monthly, and new properties are added daily. Auctioneer: Rick Roundy #02-166. Broker Firm: Micoley.com LLC #40330524. Broker: Wade T. Micoley #40153777.