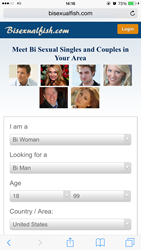 Michigan (PRWEB) April 14, 2015
According to the latest statistics, there are 41,250,000 people in the U.S who have tried online dating. 21% user currently use or have used a mobile dating site. This trend also applies to bisexual dating sites, as one newly launched mobile dating site for bisexuals m.BisexualFish.com pointed out. m.BisexualFish.com is a dating site that caters to bisexual women, couples, other bisexual men or at least people who are looking for bisexual friends. It has recently redesigned its mobile site - m.BisexualFish.com. The brand new mobile site encourages users to visit the site from mobile devices, such as smart phones and tablets.
"One third of our users visit our website from mobile devices." The co-founder of m.BisexualFish.com said, "According to our data, more than 40 percent of users said that they tend to communicate more often with people they date/would like to date, thanks to their mobile device. That's why m.BisexualFish.com came into being." This is the first bisexual dating site ever to launch a mobile site for better user experience. "We are not only helping our members find partners and true love, but also making our users enjoy their time when they are staying on a mobile friendly website."
"We are a bisexual community, mainly serving bisexual, bi-curious singles and couples or those who want to date them," says m.BisexualFish.com's co-founder. "Now with mobile devices getting unprecedentedly popular, dating on mobile devices is becoming more and more necessary and convenient than ever. Users get to easily browse profiles, send instant messages, connect with others anytime. That will greatly improve the efficiency of dating."
Beyond a thoroughly intuitive search portal containing a database of bisexual singles for sexy bisexual women and handsome bisexual men to choose from, other benefits on this new mobile site include free registration, live bisexual counselor, let's meet game, "date ideas", forum and blog and much more.
Representatives of this mobile bisexual dating site encourage those seeking their bisexual partners to visit http://m.BisexualFish.com and swing both ways.