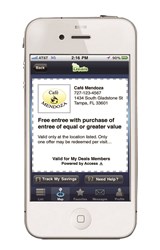 By partnering with Access, any company can turn on a network of over 150,000 merchants almost overnight.
Las Vegas, Nevada (PRWEB) October 09, 2013
America's largest private collection of mobile coupons has now surpassed 150,000 merchant locations, Access Development announced today at Money2020, the leading conference for the emerging payments and financial services industries.
The growth of the network is the result of Access' continued focus on partnering with local merchant favorites as well as popular national brands. The deals cover every popular consumer spending category, including dining (30,000+ locations), health & beauty (20,000), service providers (14,000) and retail shopping (12,000). Many offers are for 50% off, while the average discount for the entire network exceeds 35%.
At Money2020, Access is showcasing the power of this network to drive mobile commerce for the benefit of consumers and merchants, as well as the various payment platforms and networks. The company is also revealing how the network can integrate with proximity-based "beacon" technologies, which allow consumers to be served offers based on their location within a designated area.
"By partnering with Access, any company can turn on a network of over 150,000 merchants almost overnight," says Kelly Passey, Access Development EVP of business and product development. "If the goal is to earn a bigger share of the mobile commerce and payments markets, Access has merchant relationships that add instant relevance and credibility with consumers."
Access' mobile coupon network features deals in all 50 states, including all 366 metropolitan areas and all 576 micropolitan areas in America. The network matches consumer spending patterns, which show that over 90% of discretionary spending occurs in-store, within 20 miles of home.
The Access mobile network was created in 2009 to provide everyday, relevant savings to consumers that could be accessed from anywhere in the nation. The deals are not available to the general public and are exclusively reserved for Access' clients, who include financial institutions, insurance firms, membership organizations and others.
Money2020 attendees are welcome to stop by booth #638 for a free "mobile wallet" as well as a complimentary membership to the mobile coupon network. For more information about Access and the Access mobile discount network, please visit http://www.AccessDevelopment.com.
About Access Development
For over 25 years, Access Development has helped companies connect with their customers and build revenue, loyalty and retention through custom rewards and loyalty programs. The company's discount network of over 300,000 locations and national brands is America's largest, providing discounts of up to 50% on everyday items to millions of end users. For more information on Access, please visit AccessDevelopment.com or follow us on Twitter and LinkedIn.