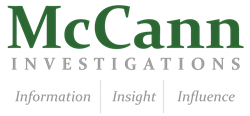 Our analysts have the ability to find vend the smallest bit of evidence that could make a huge difference in your case.
San Antonio, TX (PRWEB) November 19, 2013
McCann Investigations, a Texas-based firm that specializes in digital security and private investigations, recently announced that it will now provide its mobile device analysis services to clients in the San Antonio area.
Mobile devices have become the biggest means of communication and web browsing for people across the United States. Because of this, it's extremely important that companies have access to mobile device forensics specialists, especially if they believe they are at risk or have been victims of a data breach. McCann's San Antonio-based investigators have the training and experience necessary to find evidence in smart phones, GPS devices, e-readers, tablets and more.
"Many cases today require thorough analysis of mobile devices to find needed evidence," said Daniel Weiss, Managing Partner at McCann Investigations. "Our analysts use a variety of methods to uncover evidence on mobile devices that would otherwise stay hidden."
The methods used in these investigations are many and varied. The most common sources of evidence found in mobile devices include web browsing history, text messages, calendar appointments, notes, photos, video, social media and other forms of media. The evidence found in searching these sources can be used in any sort of legal proceeding.
However, there is no single method to instantly remove all evidence from a mobile device, which makes it important to work with a specialist in mobile device analysis. McCann's San Antonio digital analysts have the training and experience necessary to find every bit of evidence on a device.
"Our analysts have hte ability to find even the smallest bit of evidence that could make a huge difference in your case," said Weiss. "We are happy to be able to bring these much-needed services to our clients in the San Antonio market."
For more information about the services provided by McCann Investigations in the San Antonio area, visit the company's website at http://www.mccanninvestigations.com and follow the company on Twitter at @mccangi.
About McCann Investigations
McCann Investigations is a Texas-based private investigations practice focused on comprehensive investigations incorporating digital forensics, surveillance, undercover work and background checks for clients in various case types. Service areas include intellectual property theft, non-compete enforcement, fraud, embezzlement and family law. McCann Investigators are experts in the latest computer forensics tools and are licensed with the state of Texas. McCann examiners have provided expert testimony and reporting in hundreds of cases across the state.