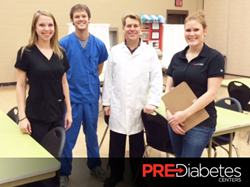 Austin, TX (PRWEB) December 18, 2014
PreDiabetes Centers, a top provider of prediabetes testing and treatment, conducted complimentary on-site diabetes blood screening at Kealing Middle School in Austin to help teachers and other school employees learn their risk for diabetes and metabolic dysfunction. In an easy and convenient blood draw performed just steps away from the teachers' morning classes, school employees were able to receive advanced screening for the disease without the hassle of driving to a blood draw center.
PreDiabetes Centers is proud to offer mobile diabetes blood screening to local employers who are interested in offering wellness initiatives and diabetes prevention education to their employees. Prior to the diabetes blood screening, PreDiabetes Centers Medical Director Alan Hopkins, MD, hosted a presentation for employees–discussing the risk factors and complications of diabetes–and encouraged people to sign up for free diabetes screening.
The PreDiabetes Centers diabetes blood screening looks at several biomarkers associated with prediabetes and diabetes, including fasting blood glucose, hemoglobin A1c, insulin, C-reactive protein, thyroid hormones, testosterone, lipids, HOMA-IR, and vitamin B12. Screening for these biomarkers individually could cost as much as $800, but PreDiabetes Centers provides this testing at no cost whatsoever to the employer or employee.
For employees who have prediabetes or early-stage diabetes, PreDiabetes Centers can offer customized treatment plans that can stop the onset of type 2 diabetes. The 12-month treatment program uses traditional medicine, health coaching, nutritional supplementation, an advanced dietary plan, guided fitness, sleep and stress therapies, and more.
Diabetes is a dangerous disease that has reached epidemic proportions in the U.S. More than 29 million Americans have diabetes and an estimated 86 million people have prediabetes, the early, reversible stage of type 2 diabetes.
PreDiabetes Centers is a proud partner of the American Diabetes Association (ADA) and the Stop Diabetes @ Work program, an initiative that promotes diabetes awareness, detection, prevention, and successful management of diabetes.
Online readers who are interested in learning their risk for diabetes can take the online Diabetes Risk Survey and schedule a free consultation with a prediabetes physician.