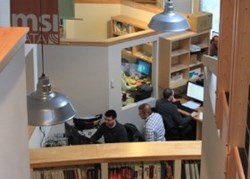 "Field-intensive organizations want to invest in mobile applications that are designed for the type of work they perform, work on the device of their choice, and have the ability to make changes as their business needs dictate." -Harvey Shovers, President
Milwaukee, WI (PRWEB) January 30, 2014
MSI Data, a leading provider of field workforce automation software, today announced an expansion of its Mequon, WI headquarters office space - the second expansion within the last 12 months. Fueled by market demand for its suite of field workforce management applications, including service management and cross-platform mobile inspection and mobile field service apps, MSI Data more than doubled its staff in 2013.
"Our growth in 2013 is a testament to the excellent work of our entire team in developing software that meets the most pressing needs field service organizations have today, namely to improve their field performance by making better use of mobile technology," said Harvey Shovers, President of MSI.
This expansion, a 45% increase in square footage, accommodates planned 2014 hiring for several departments, including software development, sales, marketing, technical support and professional services. MSI Data currently has expanded from 20 to 45 employees over the past eighteen months, and will continue to add rapidly as new customers adopt its solutions.
Mobile, Cloud Applications Drive Sales Growth
Companies whose field work includes field service, repair, maintenance, inspections, audits, and other daily field data collection are increasingly turning to mobile apps to improve productivity. MSI software automates those processes with service management capabilities for back office staff and executives, drag and drop work assignment for schedulers, and native mobile apps for the field worker for iPad, iPhone, Android or Windows tablets or smartphones.
"Field-intensive organizations want to invest in mobile applications which are designed for the type of work they perform, work on the device of their choice, and have the ability to make changes as their business needs dictate," said Shovers. "The market continues to respond positively to MSI software offerings for companies ranging anywhere from 10 to several thousand users."
MSI Data's enterprise field service management, mobile inspection and mobile field service software is used by organizations in over a dozen industries, including cable / telecommunications, medical equipment, depot repair services, construction, government and heavy equipment.
About MSI Data
MSI Data develops enterprise, scheduling and mobile software that helps companies improve the productivity of their field workforce. World class service organizations rely on MSI Data's powerful suite of field workforce software to automate field service, inspections, site surveys, audits, reporting and other critical field-driven business processes. MSI Data replaces paper and disconnected spreadsheet-based business processes with highly efficient, end-to-end processes through the combination of mobile technology for field workers and ERP, CRM and accounting systems integration. Whether deployed in the cloud or on-premise, MSI field workforce software applications are easy to acquire, easy to deploy and deliver enterprises with rapid return on investment. For more information, please visit http://www.msidata.com.
iPad® and iPhone® are registered trademarks of Apple. Android® is a registered trademark of Google. Windows® is a registered trademark of Microsoft.