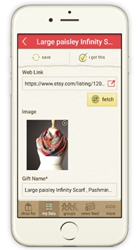 We believe our new mobile app raises the bar on the ease of use and features users will now come to expect from this kind of service.
Minneapolis - St.Paul, MN (PRWEB) November 23, 2015
Giftster, already the popular favorite among web-based family gift registry apps, today unveils the Version 4.0 mobile app in time for the Holiday shopping season. The new version is the easiest, most featured-packed shareable family gift registry app available today for iOS, Android and other mobile users.
With simple list making and sharing functionality, Version 4.0 represents five years of studying what families and social groups want most in a wish list sharing app. Many ideas were first tested and refined on Giftster.com and then implemented on the new mobile version.
"The new mobile version of Giftster is our response to what consumers are asking for in a lifetime gift registry," states Giftster Founder and CEO, Ron Reimann. "We pioneered the concept of a lifetime gift registry for everyone, and we believe our new mobile app raises the bar on the ease of use and features members will now come to expect from this kind of service."
New Mobile Version Removes Obstacles to Getting & Giving Perfect Gifts
Version 4.0 expands on the previous mobile apps by now including these well-loved features of Giftster.com. Combined, these features remove the stress, anxiety, and wasted resources typically associated with gift giving occasions:

All new, fresh Giftster design
Unique mobile Browse 'n' fetch adds new items (and the best image) to a wishlist with just a few touches.
Take pictures with the phone's camera and quickly add to a wish list.
See a member's Secret Santa pick and draw rules.
Complete group management to easily set up and maintain a private gift registry for family members.
Full Child Account support to add and manage lists for people not online (kids, pets, older family members).
Members with iPads have a Giftster app designed for them.
The free iOS app is available now for iPhone and iPad users from the Apple App Store. The Android wish list registry app is also available now from Google Play. The mobile web version for other small screen browsers is available now at http://m.giftster.com.
About Giftster
Minnesota-based MyGiftster.com defines the standard for permanent, lifetime gift registries for families and close friends. By combining family-friendly features and the latest web and mobile technologies, Giftster is the go-to choice for shareable family holiday registries, wedding and baby registries.
Giftster synchronizes instantly among versions for the web at giftster.com, for iPhone at Apple iTunes, for Android at Google Play, and other browsers on smartphones and tablets with http://m.giftster.com. For more information contact: jchipkin(at)giftster(dot)com.