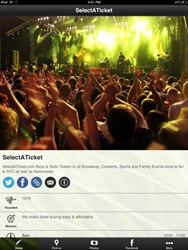 Our goal was to contain the whole process in a few simple clicks while keeping it easy to read.
Riverdale, NJ (PRWEB) September 16, 2013
New Jersey based ticket broker Selectaticket.com, located in Riverdale, NJ, is no stranger to the ticket industry. They have been the trusted source for tickets for over 35 years. Today, Select-A-Ticket CEO and President Tom Patania announced the release of Select-A-Ticket's mobile app, available for iPad and iPhone users through the iTunes App store and via Google Play for Android devices.
The free SelectATicket.com mobile app provides quicker shortcut access to Select-A-Ticket's mobile website where users may search for tickets to over 60,000 events, discount ticket listings, contact info, social media profiles and through the use of push technology will provide users with exclusive mobile app user only sales and promotions.
"We started with the concept of the end user in mind. Today's consumers are using their mobile devices to get things done and purchases on e-commerce sites are growing exponentially year after year. Our CEO Tom Patania envisions in the very near future a fan will be sitting outside a game enjoying a tailgating party and then use their smartphone to buy tickets which they download to their phone and scan at the gate much like is done with the airlines today, " says Mark Gibbons of SelectATicket.com.
"The biggest challenge we had was being able to show consumers a seating chart on a small smart phone alongside the hundreds and sometimes thousands of tickets that are available for that one event. Our goal was to contain the whole process in a few simple clicks while keeping it easy to read. We feel we have succeeded in doing that as a first step. To address this, we put in filter settings which allow the consumer to select only the sections they wish to sit in and the mobile device will then list only the tickets available within those sections. Furthermore the application is designed to automatically give the best value seating within those sections. So what you get is ease-of-use and the best value in seating. Then next screen is check out and you're done. It is that simple," Gibbons explains.
Other important features include:

The application uses your phone's location information to display events nearest you
Textual event search box which scans SelectATicket.com's inventory of over 60,000 events around the globe
Events broken down by category: local events, sports, theater, concert, etc. for quicker access
In addition to the application being easy to use and providing great value in finding the cheapest tickets it also has social integration for fans to post pictures and a discounts page with tickets sometimes as much as 80% off.
About Select-A-Ticket
Select-A-Ticket has been in business for over 35 years as an experienced, trusted and secure ticket broker.
Select-A-Ticket sells tickets to Broadway, Concerts, Sports, and Family Events and is a proud member of the National Association of Ticket Brokers (NATB).
For a complete list of available tickets, go to http://www.SelectATicket.com.