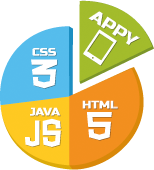 Mobile users have almost doubled in last 2 years and by 2016 it is expected to become worth a $50 billion market.
(PRWEB) July 26, 2013
Appy Pie Inc., a well-known online mobile application developer for various mobile operating systems is now offering its customers with mobile website development for free. This move is a part of aggressive expansion and growing popularity in mobile market from the app maker.
Abhinav Girdhar, CEO at Appy Pie, said, "It is an effort to increase the visibility of our clients on all platforms, be it a mobile app or website. Mobile market is increasing rapidly and we want our clients to make benefit from this market and enhance their products visibility everywhere."
"Mobile users have almost doubled in last two years and by 2016 it is expected to become worth a $50 billion market. To have a good prospect of gaining huge profit from this explosive growth, we are offering our clients to create mobile websites and increase their number of customers," he further added.
There are numerous benefits associated after availing this service from Appy Pie such as:
1. Custom-branded Mobile Website
2. Redirect mobile users from regular Websites to Mobile Sites.
3. Unlimited mobile site visits
4. Custom domain
5. 1 Step Conversion to Mobile App
Apart from free mobile website builder, one may also come across the award winning app builder at their online portal. Also, the company offers various app promotional plans that help developers in profitable ways such as higher ranking for their application, more user reach, visibility, etc.
About Mobile Application Development Company, Appy Pie:
Appy Pie is trademark of Appy Pie Inc. Appy Pie is the world's #1 cloud based Mobile App maker Software that allows everyone to create free mobile apps. Appy Pie is Custom Mobile Application Development News software that allows anyone with no technical knowledge to create advanced applications for mobiles and smartphones. Nothing to download or install, no programming required, just drag & drop. Appy Pie was born in New York in 2011 & at this point more than 5000 apps are produced each month using the Service.
To make mobile app or to become a mobile app reseller, visit http://www.appypie.com/