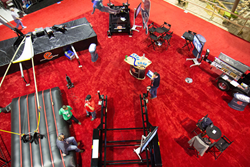 Portable Ziplines And Award Winning Products Coming To Asia
Sacramento, California (PRWEB) June 12, 2014
Portable Ziplines are coming to Asia. Beijing, China will be hosting the 2014 IAAPA Asia trade show, the largest amusement industry trade show in Asia. Extreme Engineering, a longtime industry supplier and IAAPA member will be expanding their award winning product offering into Asia. This will be Extreme Engineering's first time exhibiting at IAAPA in China, making it the 20th IAAPA related trade show in Extreme Engineering's exhibiting history. The award winning Fly Wire Zip line, winner of Best Major Theme Park Ride, along with Extreme Engineering's award winning Extreme Air Jumper, Rope Quest, climbing walls and major thrill rides will be displayed during the IAAPA Asia trade show.
"We are very excited to be exhibiting at IAAPA Asia. Asia is an emerging market and the opportunity keeps getting larger," states Philip Wilson, Executive Vice President of Extreme Engineering. IAAPA Asia sees over 5,000 attendees with over hundreds of exhibitors worldwide. IAAPA is the largest industry trade show in the United States and IAAPA Asia is the largest in Asia. "We have a lot of new product concepts on display during the trade show. Our very popular High-Action Adventure and Rapid Gravity Ride will be debuted at the show. We are very excited to show the next generation of thrill rides to China," comments Wilson. IAAPA Asia will be at the International Convention Center located in Beijing China. Exhibitors from all over the world will be showcasing the latest trends in the amusement industry.
Extreme Engineering is the world's largest supplier in patented mobile ziplines, portable ziplines, climbing walls, Extreme Air Jumpers and adventure products for the amusement and resort industries. Today Extreme Engineering manufactures award winning products such as the Fly Wire zipline for entertainment enthusiasts on an international level. Extreme Engineering's thrilling Fly Wire mobile zipline recently won one of the most prestigious industry awards in the "Best New Product" category for "Best Major Theme Park Ride," earning their 8th total industry award.
The award winning mobile zipline provides thrill seekers the ultimate rush of zip-lining across the sky up to 300 feet - the length of a football field. With speeds reaching up to 21 MPH, the Fly Wire is the only portable zipline of its kind using the safest decelerator on the market, the Decelinator, which is a proprietary device that fully lowers zip-liners safely to the ground so riders can soar through the air with confidence. Offering unparalleled "quick cycle times" to serve up to 90 riders an hour, there is no other portable zipline product in the world that can compete with the Fly Wire's completely controlled method of keeping zip-liners safely off the ground.
The Fly Wire mobile zipline will become a part of several amazing amenities at Big Surf Waterpark, which offers activities for all ages including thrilling waterslides, one of the largest wavepools in the country, great food, concerts, special events and much more.
The Fly Wire mobile zipline and stationary zipline can also currently be experienced at Westgate Resorts throughout the United States, Big Surf Waterpark, Horseshoe Pass Resort and was featured at several Dallas Cowboys 2013 season home games at AT&T Stadium.
About Extreme Engineering
With over 19 years in experience and 5,000 customers worldwide, Extreme Engineering has provided extreme thrills to customers such as Disney, Six Flags, NASA, US Military, Westgate, Marriott and many more. As the original creators of the mobile climbing walls and Auto-belay systems, Extreme Engineering has been globally recognized as the primary supplier in zip lines, mobile and stationary climbing walls and extreme, interactive fun. Extreme Engineering is the first company in amusement history to achieve the amazing honor of "Best New Product" 5 years in a row and 8 consecutive industry awards. For more information on Extreme Engineering, please visit http://www.extremeengineering.com, or email Philip Wilson at phil(at)extremeengineering(dot)com.
About IAAPA ASIA
Founded in 1918, the International Association of Amusement Parks and Attractions (IAAPA) is the largest international trade association for permanently situated amusement facilities worldwide. The Asian Attractions Expo, IAAPA ASIA, is the one-stop destination for leisure and attractions industry professionals, including operators, suppliers, investors, and developers. Enjoy valuable face-to-face time with more than 5,000 professionals representing all segments of the attractions industry from 60+ countries. For more information on IAAPA please visit http://www.iaapa.org.