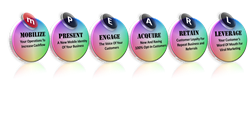 With global transaction volumes projected to surpass $235 Billion in 2013, Mobile Commerce is no longer an option but a necessity for businesses to seriously consider and implement as a new channel for customer acquisition, retention and fresh revenues.
Carlsbad, CA (PRWEB) October 26, 2013
ICREATE Technologies launches Mobile Commerce Consulting Services with their core methodology - 'mPEARL' geared specifically to assist small and medium sized businesses incorporate Mobile Commerce as an additional channel to Acquire new customers, Retain existing customers, Engage both new and existing customers in promotions and business intelligence, Leverage the power of Word Of Mouth 'CrowdMarketing' and Present a new brand in the Mobile Commerce market - all through the most ubiquitous and literally omnipresent device of all time - the cellphone.
ICREATE Technologies has registered this methodology - 'mPEARL' as a servicemark with the USPTO to promote brand recognition of this Mobile Commerce enablement methodology.
"With readership of print and audience of radio and television declining faster and faster, small and medium sized businesses are literally throwing their marketing budget on channels that are no longer cost effective," said Neeta Ghosh, Managing Partner at ICREATE Technologies. "Businesses need to focus on a channel where the customer base has shifted to - mobile phones. Coupled with Social Media and Word Of Mouth Crowdmarketing, adopting Mobile Marketing and a Mobile Internet Presence is no longer an option to consider on a lazy afternoon, but an inevitable business decision to be taken now."
'mPEARL' combines strategies followed by leading companies worldwide, integrates Six Sigma principles and leverages latest technologies of Mobile Websites and Mobile Marketing to deliver an effective actionable methodology for small and medium businesses to rapidly enter, thrive and expand their business through Mobile Commerce. 'mPEARL' can be deployed standalone or may be plugged into any prevailing methodology that may already be in place for business process re-engineering for overhead cost reduction and revenue growth for maximizing the ROI of the cost of doing business.
ICREATE Technologies LLC based in Carlsbad, CA is focused entirely on enabling Mobile Commerce in small and medium sized businesses. We offer Mobile Commerce Consulting, design Mobile Websites duly optimized for Mobile Search Engines and also offer a feature rich Mobile Marketing platform that enables our clients to reach 100% opt-in subscribers directly on their cellphones with marketing and information messages and leverage the Voice of the Customer to derive intelligence for making dynamic and better business decisions. We combine our 'mPEARL ' Mobile Commerce methodology with our technology to offer an effective and viable strategy for small and medium sized businesses to significantly reduce costs, increase brand awareness and increase revenues, consequently improving their bottomline.