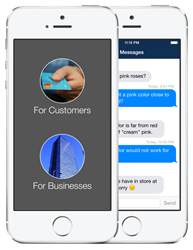 This app saves a substantial amount of time for shoppers who will now be able to contact many stores at once by sending just one message. Businesses would tremendously benefit from this app as well.
(PRWEB) August 06, 2015
TopLineSoft Systems has released a new mobile app that connects shoppers to businesses of interest using geolocation. Once businesses download the app, they can be contacted by potential customers who have also downloaded the app and are inquiring about products or services. For example, if someone is looking for a florist that has a dozen red roses, they can send one message to all local florists asking if they have the product available. The florists then have the option to reply and let the potential customer know if the product is available. This eliminates the need of the customer to locate and call each store.
To send a message, shoppers need to specify business category and maximum distance to the business location. The system will automatically deliver the message to proper businesses giving each of them an opportunity to respond back.
The app supports special "Delivery Required" mode when the message is sent only to businesses with delivery service available in an area that includes shoppers' locations. This mode is extremely useful for shoppers who are unable to leave their home or prefer convenience of product delivery.
The messaging service behind Zetware ensures privacy and confidentiality of communication. Customer messages are anonymous because the business recipients of the messages do not see a username or any other information about the sender except the text of the message. The service has complete anti-spam protection as well. The businesses are unable to initiate new conversations by themselves as they can send messages only to conversations started by the customers.
Zetware helps shoppers save time and provides a unique opportunity for businesses to attract more customers. In addition, participating businesses will be accumulating extremely valuable information about customer demand and market trends as they communicate with shoppers.
Zetware is not just an app but also a backend messaging service with special algorithms for connecting shoppers and businesses. TopLineSoft Systems plans to expose that service to many other mobile and desktop platforms such as Android and Windows.
For more information please visit http://www.zetware.com. App Zetware can be downloaded from Apple App Store for free by clicking this link.
About TopLineSoft Systems
TopLineSoft Systems develops mobile and desktop software since 2008. The company published 36 apps in iOS and Mac App Stores.