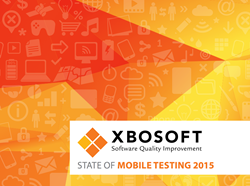 Santa Clara, CA (PRWEB) February 19, 2015
XBOSoft releases the State of Mobile Testing 2015 Report to the software testing and QA industry. The report shows some significant growth in some areas with a focus on future trends in mobile technology that effect the software testing industry as a whole. Wearables and Ingestibles and new business models via the mobile device have given rise to new software testing methodologies that Quality Assurance testers have to adapt to.
Key points raised in the mobile testing report cover the app market, mobile device capabilities, and the new ways in which the platform can deliver all kinds of services across multiple industries in greater numbers and with even greater efficiency than ever been seen before. Download for free now! http://xbosoft.com/go/mobile-testing-report-2015
XBOSoft produce many whitepapers, webinars and case studies with tutorials on various software testing methodologies and services. Mobile testing services are available at XBOSoft with onsite testers and consultancy on how to develop mobile test plans accurately and to a high standard.