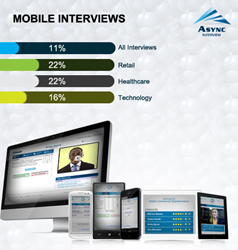 Mobile is transforming the Internet for users, and within HR and recruiting, it's providing more access than ever before
Philadelphia, PA (PRWEB) March 11, 2015
Mobile technology is reinventing the hiring game as job candidates are able to search, apply, and interview for a position, all from their phone or tablet. Last year, Google saw mobile recruitment search grow by a factor of 16.3, and that trend is forcing recruiters and hiring managers to rethink traditional recruiting and interviewing strategies in order to find and attract top talent. Async Interview, a leading digital interviewing platform provider, is helping lead the revolution by providing employers and recruiters with a new mobile upgrade to its digital interviewing technology, allowing candidates and employers to connect no matter where they are located or how busy their schedules are.
Through the latest update to its sophisticated technology suite, Async Interview enables candidates to pre-record interviews using an iOS or Android app. Recruiters and hiring managers can then view the recorded interviews on any mobile device while keeping detailed notes and evaluations on the candidate organized and stored right within the platform. Today, Async Interview reported that 11 percent of interviews were conducted on mobile devices in 2014. In the retail and health care industries, that number jumped to 22 percent, and is only expected to grow.
"Mobile is transforming the Internet for users, and within HR and recruiting, it's providing more access than ever before," said Christopher Young, CEO of Async Interview. "As technology evolves, it's important that your hiring process does too, and in order to ensure you're attracting the freshest and most sought-after talent, you must take advantage of mobile technology when it comes to recruiting and interviewing. Because people tend to have their phone nearby 24/7, mobile offers more potential for engagement and opportunities to connect top talent with open positions."
Mobile platforms can be used for nearly all stages of the hiring process, from finding candidates to tracking applications to conducting interviews and making hires. Mobile-friendly sites and platforms also help reinforce a company's image as technologically forward and relevant, as it connects with candidates on the platforms they value and use.
Async Interview's digital interviewing technologies have helped recruiters place thousands of candidates in hard-to-fill positions across the country. For more on Async Interview's digital interviewing platforms, contact Async Interview at 215-645-7132 or request a free demo.
ABOUT ASYNC INTERVIEW
Async Interview is a digital interviewing platform provider that supplies the technology and service to meet the needs of corporate and outsourced recruitment professionals. Its suite of video and audio interviewing tools are built to revolutionize the recruiting process, which is bogged down in inefficiencies, rising costs, and laborious procedures. The cloud-based real-time system gives recruiters, human resource professionals, and hiring managers the ability to conduct live and pre-recorded interviews, evaluate talent, collaborate on the review process, and identify top candidates in the emerging workforce. For more information, visit Async Interview.