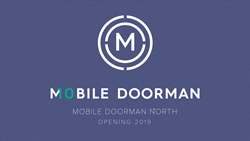 Uniting these two teams under the Mobile Doorman brand will... propel the tech behind our industry-leading suite of custom-branded apps to new heights.
MADISON, Wis. (PRWEB) December 17, 2018
Mobile Doorman, the industry-leading creator of white label resident apps for apartment communities in the U.S., today announced that it's vastly expanding the company's development team with the launch of its first-ever in-house app technology division.
To support the accelerated growth, Mobile Doorman also announced that it will open a second office, located in Madison, Wis. Mobile Doorman North will be comprised of the tech leader's product development, website and tech support teams. The company will maintain its Chicago headquarters.
"We're thrilled to strengthen our in-house development team and, in the process, substantially grow Mobile Doorman's physical footprint in the Midwest," said co-founder and chief executive officer of Mobile Doorman, Bob Matteson. "Continuing to recruit top tech talent will be crucial for the company's expansion in multifamily and growth into new business verticals."
The Mobile Doorman in-house technology team comes from Madison-based Ten Forward Consulting, a web and mobile consulting and development agency. Ten Forward has served as consultative partners for the custom app developer since 2014 and built the framework for what the product is today. With the tech division now in-house, clients can expect enhanced technical support and a suite of all-new product features in 2019, with no disruption in service during the transition.
"Uniting these two teams under the Mobile Doorman brand will not only provide a reinforced layer of technical support for our clients, but propel the tech behind our industry-leading suite of custom-branded apps to new heights," said Brian Samson, Mobile Doorman chief technology officer and founder/president of Ten Forward Consulting.
As an extension of Mobile Doorman Madison's opening, the company will pledge all-new resources to the city's booming tech startup community in the coming year. Full details of this commitment will be announced in 2019.
To learn more about today's announcement, or what Mobile Doorman can do for your apartment
community, visit http://www.MobileDoorman.com or email Info@MobileDoorman.com
About Mobile Doorman:
Mobile Doorman specializes in developing custom, white-label apps for apartment and condominium communities across the U.S. Our mission is to improve how residents interact with their properties with a convenient, user friendly tool that helps them live smarter while helping property owners manage better, improve retention, and boost their bottom line through nexgen technology. For more information, visit http://www.MobileDoorman.com.
About Ten Forward Consulting;
Ten Forward Consulting provides custom software solutions for companies of all sizes. From strategy to implementation, Ten Forward has a track record of helping businesses hit critical goals, launch new initiatives and fix inefficient processes. For more information, visit https://tenforward.consulting.