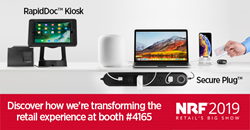 Providing associates with up-to-the-second information on how they can take action to improve their merchandising results
NEW YORK (PRWEB) January 14, 2019
Mobile Technologies Inc. (MTI), a global leader in consumer electronics retail security and One Door™ Inc., a leading provider of cloud-based visual merchandising software, today announced a partnership to integrate their offerings. By combining MTI's real-time store sensing with One Door's visual merchandising and space planning capabilities, the partnership will give consumer electronics retailers new, real-time, visibility into the state of merchandising in their stores.
As part of this agreement, MTI and One Door will combine data from MTI Connect, an open IoT retail platform that provides real-time store visibility, with data from One Door's Merchandising Cloud, a cloud-based application that delivers space planning and visual merchandising capabilities including in-store execution and compliance management.
For retailers looking to make more frequent changes to their stores and localize their product promotions, communicating and confirming merchandising initiatives is becoming more time-consuming and costlier. "The combination of our real-time store data and Merchandising Cloud's tailored and guided store plan will provide associates with up-to-the-second information on how they can take action to improve their merchandising results, and maximize sales," says Matt Haroldson, VP of Global Marketing at MTI.
"Space planners and visual merchandisers using traditional planograms have limited confidence in the quality of merchandising in stores," said Dan Wittner, COO of One Door. "We look forward to partnering with MTI to incorporate real-time store data into Merchandising Cloud's existing compliance measurement capabilities, further improving corporate visibility into the quality of merchandising."
Hear more insights at the NRF Big Ideas Sessions:
One Door: Reinventing the Merchandising Process with Mobility Presented by Best Buy
Monday, Jan. 14, 2019, 12:30 p.m.
Stage 5, Expo Hall, Level 3
MTI:
Optimizing Employee and Consumer Experiences in Retail IoT Presented by MTI, Tuesday Jan. 15, 2019 10:15 a.m.
Stage 6, Expo Hall, Level 3
Visit both companies at NRF's Big Show, Jan. 13-15, 2019:
MTI - Level 3, Booth #4165
One Door - Booth #2737
About MTI
For over 40 years, MTI has been a leader in consumer electronic display technology, developing hardware, software, and service solutions for retailers globally. MTI Connect™ is the first real-time IoT cloud platform enabling retailers to close the communication gaps between management, front line teams, in-store technology, and the customer experience.
Contact: connect(at)mtigs(dot)com
For more information, visit: https://mtigs.com/smart-retail/
Follow us on Linkedin: https://www.linkedin.com/company/mti_2
About One Door™, Inc.
One Door™, Inc. is a leading provider of cloud-based visual merchandising software, optimizing merchandising at each store for the world's leading brands. One Door is privately held, based in Boston, MA, and led by an experienced team of retail and technology visionaries. One Door™ Merchandising Cloud is the only application that combines product and promotional visual merchandising with store information, providing each store with a unique, unified, and interactive merchandising plan. For more information, visit http://www.onedoor.com.
For more information, visit https://onedoor.com/