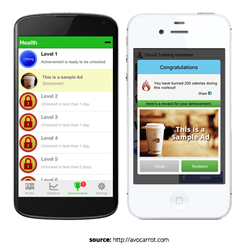 Mobile native ads have received great credibility lately by being embraced by all the major social networks.
San Francisco, CA., and London, UK (PRWEB) July 03, 2014
Avocarrot, the mobile native ads specialist, today announced the public launch of native in-stream ads technology which is specifically targeted towards development studios working on Android apps. Until now, app developers only had access to traditional mobile advertising which proved to be underperforming with respect to developer earnings and user experience. With the launch of Avocarrot's own in-stream technology, mobile apps that have streams of information (i.e. news feeds, listings, galleries etc.) can seamlessly insert native ads that match the look and feel of the app to earn extra revenue, which is in addition to whatever monetization solution they already use.
Based in San Francisco and London, Avocarrot has been growing fast and attracted over 2,000 app developers globally to boost their revenues. Native ads have seen a consistent high performance of 15-20 times the industry standard and the company is now adding more features to its core technology.
More and more app developers are switching their in-app advertising models to native ads, and with some of the most downloaded apps relying on them to generate millions of dollars in advertising revenue, the technology is now entering a mature stage. The same technology is now available to all Android developers through Avocarrot's Native Ads SDK which has been designed from the ground up to be flexible and integrate seamlessly in the user experience.
"Mobile advertising is expected to hit $42 billion in global revenues by 2017 and we work with app developers who are serious about monetization to continuously optimize their revenue strategy and maximize return," says George Eracleous, one of the co-founders of Avocarrot. "Mobile native ads have received great credibility lately by being embraced by all the major social networks, and although there is currently a huge hype around them, the performance improvement we've seen so far in our network has been impressive."
Avocarrot offers fast payment terms, express SDK integrations and around-the-clock engineering support which has made the fast-growing mobile ad network particularly popular with independent development studios. They have also partnered with a handful premium ad exchanges to achieve a global geographical coverage and ensure there is sufficient ad inventory at scale.
App developers can be up and running with native in-stream ads in under 15 mins and can get more info at http://www.avocarrot.com.