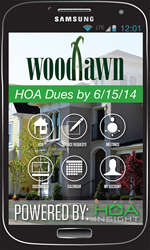 The application is focused on the relationship between the Homeowners Association and their homeowners, and is in line with GPT's mission of anytime, anywhere communication.
Orlando, FL (PRWEB) May 16, 2014
Gold Post Technologies, Inc. (GPT), the Nevada based company that turns big data into easy to manage mobile applications launched their app, HOA Insight this week at the CAI Conference and Exposition. The application focused on the relationship between Homeowners Association's and their homeowners, is in line with GPT's mission of anytime, anywhere communication. "HOA Insight was designed to provide homeowners with mobile access to association information and for the HOA to communicate through the homeowners most conveniently used resource—their smartphone," said Glenn Rouse, Senior Vice President of Sales for GPT.
Using the HOA Insight app, a homeowner can access the application to see a banner reminding them there is an association meeting and deadline for association dues. At another touch the recent agenda opens for review, or the Facility Use Application opens and they can forward a request for maintenance. "The HOA benefits when the homeowner feels they are getting value for their dollar," added Rouse. "Communication channels are open and information flows, encouraging homeowners to be involved."
Whether it has two or 200 associations, HOA Insight was also built with the Management Company in mind. A centralized dashboard consolidates project lists via sorting options, work order tracking, workflow Integration, and works with most HOA software programs. Homeowner notifications, architectural guidelines, association documents, and the issue of common area reporting using the app with added picture and location feature, helps minimize the work load and reduces the number of inbound calls by providing mobile access to basic homeowner information.
Additional processes can also be simplified with HOA Insight, including secure voting on board members or initiatives with auto tallying (where permitted by law).
ABOUT GPT:
GoldPost Technologies, Inc (GPT) provides innovative enterprise mobile solutions and data intelligence technology for the management of public safety, corrections, law enforcement and community involvement.
ABOUT CAI:
An international organization dedicated to building better communities, CAI provides information, education and resources to all community association stakeholders, including community managers and homeowner leaders.