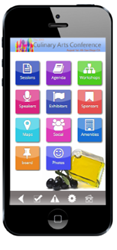 Costa Mesa, CA (PRWEB) August 28, 2014
Conbop announced today its nomination for Best Mobile App in the Management category for its robust mobile event app in the 2014 Silicon Valley Business App (SVBA) Awards. Hailed as the most prestigious award in Silicon Valley, the SVBA Award celebrates innovation in apps, wearable technology and mobile devices.
With nearly 150 nominees, the award recognizes mobile apps that are developed for handheld, tablet and all other mobile devices. Through a panel of distinguished judges, selection will be based on best practice in design, value proposition, and performance. Awards are presented to those apps that improve organization and management in their respective categories.
"Today's market demands a mobile solution for every conference, meeting or event; our mobile event app helps event organizers manage, communicate and make informed decisions in a scalable and intuitive platform," said Elizabeth Knox, Director of Marketing for Conbop, "As mobile app developers, we're excited and honored to be among the list of organizations nominated for the upcoming SVBA Awards."
About SVBA
The Silicon Valley Business App Awards (SVBA) is the most prestigious award in the Silicon Valley, celebrating innovation in apps, wearable technology and mobile devices. Every year, SVBA focuses on recognizing and rewarding excellence in creative solutions that solve real world problems. The SVBA Awards boasts strong support from industry experts and leading digital media outlets as a unique, executive level awards program-cum-incubator event that explores emerging strategic trends and best practices in apps and devices design, development, advertising, marketing, content distribution and commerce.
About Conbop
Conbop is a premium all-inclusive mobile event app designed to save money and printed waste, while engaging users and creating community around conferences and events. Offered as both off-the-shelf and white label model, it's scalable and customizable to fit events of any size. Established in 2011, Conbop hit the market as the original off-the-shelf mobile event app solution. The app was designed by a corporate event planner and offers unparalleled flexibility and scalability in design. For more information, go to http://www.conbop.com or call 800-973-3855.