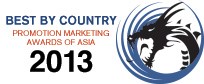 Seoul, South Korea (PRWEB) September 28, 2013
South Korea-based PR and Marketing company appsasia won two PMAA Dragons of Asia awards. appsasia won the Silver Award for the Best Business To Business Campaign, behind gold-award winner Wunderman International for its Microsoft Cloud Coach Campaign and ahead of Evolve Brands and its Norton Champs campaign for Symantec Software Solutions.
Apart from the Silver Award in the Best Business To Business category, appsasia also won the Best South Korean campaign award for the same campaign developed for its client The Korean Mobile Internet Association. In this category, Geometry Global was awarded the Dragon for Best Hong Kong campaign for its client Intel Semiconductor and Ogilvy Action Malaysia—for its client Coca Cola— won in the Best Malaysian campaign category.
The Mobile App Global Challenge Campaign focused on marketing South Korean app development talents internationally through assertive, expertly-designed and aggressive strategies that raised awareness on the quality, skill and potential of South Korean mobile app developers.
appsasia in less than six months marketed 25 apps in the international market. The results were tangible and outstanding; more than 132,000 apps were individually bought by smartphone owners and over 2.2 million apps were downloaded for free. This successful and recently award-winning campaign conducted by appsasia placed 9 South Korean apps in iTunes' Top 200 and accumulated about $612,000 in profits.
The PMAA Dragons of Asia Awards runs for the 14th consecutive year. PMAA acknowledges and awards marketing initiatives and campaigns that through unique and effective strategies achieve award-worthy results for brands such as Microsoft, Intel, IBM, Google and P&G.
appsasia has assertively entered the Marketing industry in Asia and internationally, with strategically planned and executed campaigns. appsasia's CEO, Peter Song expressed the company's delight for the double recognition of its Mobile App Global Challenge Campaign.
"We've put a lot of effort to create the circumstances that would allow these apps to shine through in a highly aggressive international mobile app market. We're very pleased that this successful campaign culminated with the winning of these two awards by the body of highly revered PMAA Dragons of Asia Awards— especially given the over 700 entries and the cutthroat competition."
Commenting on the intense competition Mr. Peter Song said, "We were competing against international giants like Ogilvy & Mather and Wunderman International, brands such as Microsoft, Google and IBM and not to forget South Korean top-notch agencies including Grey Worldwide and Cheil International. It's an honor for our small boutique agency to be featured among them and win high-status awards. We interpret these awards as both a recognition of our hard work and as a pledge to complete even more successful campaigns in the future."
The company, apart from the two PMAA awards; the Silver B2B award and the Best South Korea campaign award, has won the Bronze Award at the Game Marketing Awards, winning the Outstanding Overall Marketing Campaign in the Mobile Games Category, as well as the third place award at the much-coveted International Business Awards, winning the Marketing Campaign of the Year in the Internet/New Media category.
About appsasia
appsasia is a South Korea-based mobile app marketing agency with international activity. Its successful campaigns have been multiple times awarded by prestigious institutions and international boards, such as the International Business Awards and the Game Marketing Awards. appsasia assists Mobile App entrepreneurs and brands to expand steadily and sustainably into the global market and achieve full-fledged recognition of their potential.
Please visit: http://appsasia.co.kr