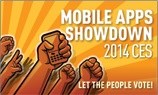 There are millions of mobile apps on the market, but it's this type of event that allows the most brilliant apps to surface.
New York, NY (PRWEB) January 02, 2014
Which mobile apps have what it takes to make it to the top? Today, Living in Digital Times announced the finalists for the Mobile Apps Showdown, honoring the remarkable innovation in mobile apps technology. Among the finalists are apps that monitor one's driving habits and car's health, a remote control for one's home, a social networking site that allows users to schedule pick-up games with friends, and an app that is changing the way people shop for eyewear.
Finalists were selected by an expert judging panel. At a live press event on January 9th, an audience of 500 CES attendees will vote for the winner via an applause-meter. There's also an online vote which is open now through January 9, 2014 at 9 a.m. EST online at http://mobileappsshowdown.com/vote/. Two winners, a live vote and an online vote will be announced.
The live event, where the finalists will demo their exciting new apps on stage, will be hosted by Gary Dell'Abate and Jon Hein of Howard Stern's "The Wrap Up Show." It will be held on January 9th from 12:30 to 2:00 p.m. PT in the Las Vegas Convention and World Trade Center (LVCC), North Hall, Room N255.
This year, the Kay Family Foundation generously created a scholarship for young App-reneurs. The winners, 16-year-old Tanay Tandon and 23-year-old Sherwood Yao, will both be at the event to receive their awards. Tandon's app, Clipped, summarizes new content into simple bullet points. He developed it to help him in his debate club. Yao's app, tapsBook, creates quick photo books that can be immediately shared. As a grad student at Duke, he was inspired to create the app to keep in touch with family and friends from Fuqua, China.
"There are millions of mobile apps on the market, " said Robin Raskin, founder of Living in Digital Times, "but it's this type of event that allows the most brilliant apps to surface."
The 2014 Mobile Apps Showdown Finalists:
Ballerz
Through social networking portals, Ballerz makes playing a pick-up game with friends as easy as scheduling an event. No more calling or driving around searching for friends that are already playing a game. With Ballerz, users can simply upload game information via social networking sites and notify all of their friends. Ballerz mobile game integrates social networking with friends and is compatible with Apple, and is soon to be available on all platforms.
Judges said, "These guys are so exuberant about pick-up games that it shows in their well-thought-out app. At first, we weren't totally convinced the world needed a pick-up game app, but boy, we heard the response loud and clear."
Cliiiimb
Cliiiimb is an innovative combination of wearable technology and a compelling iPhone app that brings real-time King of the Mountain data to Strava users when they need it most: during their segment, not after. Users can run or ride against a virtual training partner or a previous personal best from segment leader boards. The app tracks progress while the hardware gives real-time audio and visual feedback on one's position and progress.
Judges said, "Can an app drive you on to greatness? We think that this combination of training program, app, hardware and community creates the kind of ecosystem that we'll be seeing a lot more of in the future."
glasses.com
The glasses.com app is changing the way people browse, try and buy eyewear. With 3Dfit technology, the glasses.com app allows users to virtually try on thousands of brand-name frames, each sized to scale on a 3D model of their face. Shoppers can compare frames with side-by-side images, select favorites and share with family and friends via Facebook, Twitter or e-mail.
Judges said, "Glasses.com's 3D try-on app makes ordering glasses online much less of a leap of faith for consumers. Using just your iPad's front camera and a mirror, the app is able to create a 3D replica of your head and pinpoint the location of your pupils, which helps mimic how the actual glasses will fit on your head."
Iris
Iris offers simple wireless home control and monitoring, making one's relationship with their home even closer. Iris is a one-stop solution for creating the smart home of one's dreams. With the DIY expertise expected from Lowe's, Iris lets users set up a reliable and easy to operate system customized to their home.
Judges said, "When Lowes enters the high tech arena with a DIY home control system you can bet they are going to perfect it before it hits the shelves. The coolest part of the system is how modular it is: thermostat, motion sensors, contact sensors and security cameras; you decide which components you need while the apps and easy to use dashboard make controlling the parts a snap."
Maluuba
Maluuba is a personal assistant app that provides exact results for everyday queries. It is a do-engine that allows users to speak naturally to their mobile phone to get stuff done. Whether it's looking up movies playing at nearby theatres, or figuring out where to stop for dinner, Maluuba will be there providing fast, precise results. Maluuba helps manage the lives of millions of busy users around the globe.
Judges said, "Maluuba is trying to integrate voice into the mobile experience. Maluuba has partnerships for various tasks (Yelp for restaurants, Wolfram for general knowledge, etc.) and when your request falls into one of these areas, results can be great. Results can also be, well, surprising. It's not as good repartee as Siri ("Tell me a joke") and it's not as integrated into my Android phone as Google Now, but I'm very happy to have Maluuba listening to me on my mobile."
PasswordBox
PasswordBox is an innovative, free password manager, with secure digital wallet features for one's iPhone, iPad and desktop devices. PasswordBox is the only mobile app that allows users to 1-tap login instantly to their favorite websites and apps without having to type in, or even memorize, their passwords.
Judges said, "PasswordBox is an elegant, multi-platform password management app. Supports web, iOS, and Android. High production values ensure that your passwords are both protected, but also readily available. It also supports import from a variety of other password-management platforms."
Smart Document Scanner
Smart Document Scanner is the app that will help manage one's documents, enabling users to scan, scan to PDF, sync, OCR, file and enhance the final scanning result of notes, receipts, invoices, prescriptions, meeting minutes, whiteboards and much more. Users can scan to PDF and sync scans and then access them from any device.
Judges said, "Once you have a mobile document scanner with you, the reasons to use it grow exponentially—restaurant receipts, important contracts, business cards etc. The idea of using a mobile device that can scan, translate to OCR, store, organize and retrieve is a really useful one. This one has a batch scan mode and a good solid scan capability."
Tinké
Tinké uses optical sensing technologies to capture blood volume changes simply from one's fingertip non-invasively. The app features proprietary Vita (for Fitness) and Zen (for Relaxation) Indexes as a form of knowledge and encouragement for users to maintain or improve on, linking the touch from their fingers to their loved ones. Users are able to monitor and trend their measurements in a journal or statistical format, and download into CSV for personal recordings.
Judges said, "Tinké is an elegantly designed app that not only displays and analyzes your fitness and stress level over time, giving you tips on how you can improve your score, but it also makes it easy to share your results with friends and family. Unlike other wellness monitors on the market, Tinké determines your fitness by a combination of your heart rate, respiratory rate and blood oxygen level, which gives you a more holistic view of your health than just how quickly your heart is beating."
True 3D Audio
This app and its 3D music format is the first of its kind. Imagine a favorite concert in 3D audio. Use the app avatar to virtually walk around in the concert. For the first time, users can enjoy Gabrieli's Sonata XX on a mobile device, with a truly remarkable authentic reproduction in 3D spatial sound – based on the True3Daudio technology in the Intelligent Headset by GN Store Nord.
Judges said, "Now that 3D printing and video have become ho-hum, it's time for audio to break into the 3D scene in a more powerful way. This app really creates a realistic, immersive experience for enjoying multidimensional sound."
Zubie
Zubie makes driving safer, easier and less expensive. The Zubie app uses data collected from the Zubie Key (free with service), which is a hardware device that plugs into the OBD port of one's car and monitors driving as well as the car's health.
Judges said, "Zubie uses a small piece of hardware that plugs into the standard diagnostic port on most cars to provide a wide variety of smart, helpful services via your mobile device, including service reminders and troubleshooting, battery status, vehicle tracking and family safety, and monitoring of driving habits with suggestions for improvement."
About Living in Digital Times
Living in Digital Times produces conferences and exhibits throughout the year that bring together the most knowledgeable leaders and the latest innovations that intersect technology and lifestyle. Among their many goals is to help companies understand what it means to be a consumer in today's digital world and stay a step ahead in identifying key trends in their given marketplace. Living in Digital Times produces the following summits, exhibitions and events annually at International CES: Digital Health Summit, Silvers Summit, FitnessTech Summit, TransformingEDU, Kids@Play Summit, MommyTech Summit, Mobile Apps Showdown, Last Gadget Standing, FashionWare Show and the KAPi Awards. For more information, visit http://www.LivinginDigitalTimes.com.
About CES
The International CES is the world's gathering place for all who thrive on the business of consumer technologies. It has served as the proving ground for innovators and breakthrough technologies for more than 40 years—the global stage where next-generation innovations are introduced to the marketplace. As the largest hands-on event of its kind, CES features all aspects of the industry. And because it is owned and produced by the Consumer Electronics Association (CEA), the technology trade association representing the $203 billion U.S. consumer electronics industry, it attracts the world's business leaders and pioneering thinkers to a forum where the industry's most relevant issues are addressed. Follow CES online at http://www.CESweb.org and through social media: http://www.CESweb.org/social.
###