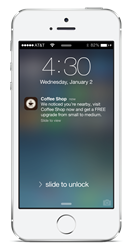 Our approach to adding technical features such as the new Splick.it Beacon is always filtered through the lens of solving pain points and helping our brands to deepen the relationship with their customers
Boulder, CO (PRWEB) May 17, 2014
Splick-it Inc., a SaaS platform for branded restaurant web and mobile applications announced today that they have integrated beacon-powered geo-triggered ordering for food and proximity-triggered marketing into their white-label technology platform.
Splick.it is known primarily for their enterprise level ordering and payment solution that powers the apps and websites for national restaurant chains such as Jersey Mike's, Moe's Southwest Grill, Pita Pit and several other national chains to be released soon. In addition to industry leading ordering and payments, Splick.it has been built as a robust plug-and-play technology platform which allows brands to have a seamless app experience when bringing in 3rd party providers for complementary services ranging from in-store loyalty programs and stored value gift cards to email marketing.
The new Splick.it Beacon is a small wireless transmitter placed inside the restaurant. When a customer with a restaurant's app walks in, the Splick.it platform can capture the customer visit, reward them with loyalty points and send a message to the phone.
In addition to enhanced marketing capabilities, the platform can also release orders to the kitchen in real-time as the customer walks in to ensure the fresher experience.
"Our approach to adding technical features such as the new Splick.it Beacon is always filtered through the lens of solving pain points and helping our brands to deepen the relationship with their customers," says Vijay Bangaru, President and CEO at Splick.it. "Based on our initial feedback from our current merchants wanting to test the Splick.it Beacon, we expect this technology enhancement to be very helpful and a great complement to our other industry-leading features."
The Splick.it Beacon and integrated software works primarily in two ways, it allows restaurants to enable geo-triggered ordering and geo-triggered marketing. The platform also provides advanced analytics so restaurants can learn more about their customer's preferences and behaviors.
Geo-triggered ordering
Letting customers order and pay in advance using Splick.it apps and web ordering has been highly effective. At times, however, the customer is delayed in picking up their pre-ordered food and this can be challenging for coffee shops and restaurants that serve hot foods. The Splick.it Platform triggers the order to push into the restaurant's POS system, printer or order delivery mechanism of choice when someone is within a pre-selected distance such as walking into the restaurant.
Today customers can order via saved Favorites in Splick.it powered apps. Now with the Splick.it Beacon, customers walking into a store can be asked if they would like to order their Favorite. With one click the customer can order and pay, and that order then gets sent to the kitchen or barista immediately. The customer will then receive a confirmation notification on their mobile phone that the order was delivered so they can have a seat, knowing that their order will be right up.
Geo-triggered marketing
Because restaurants want to provide more relevant messages, the Splick.it Beacon allows marketing and informational messages to be sent when someone is going by or walking into the restaurant. Those messages push directly onto the smart phone and tablet's home screen when the customer is within a configurable distance up to 150 feet of the beacon. This is especially useful in mall settings, airports and dense urban areas where customers are near the restaurants they eat at. Large venues can use multiple beacons to allow for more fine-tuned messaging.
Splick.it is demoing the beacon technology at the National Restaurant Association conference in Chicago from May 17-21 and will start rolling out the new feature to existing customers soon.
About Splick.it
Splick.it (http://splickit.com) Splick.it is a leading SaaS technology platform for restaurants that provides branded and hosted mobile, tablet and online ordering, payment, loyalty programs, analytics and sophisticated marketing tools. Splick.it offers a premium client experience and provides excellent customer support, marketing services and account management to help restaurants grow their business.