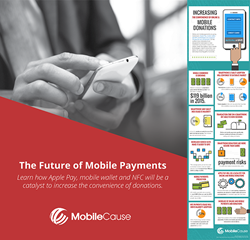 "Organizations should adopt systems that allow them to easily accept online and mobile donations to boost donor satisfaction and engagement." – Ged Mackey, MobileCause CTO
(PRWEB) November 13, 2014
MobileCause, a leading online fundraising platform for mobile, social and online donations, recently released its support of Apple Pay and mobile wallets. MobileCause's newest white paper and infographic entitled, The Future of Mobile Payments, explain how Apple Pay, mobile wallet and near field communication will be a catalyst for more charitable donations across America.
Mobile payments have the power to revolutionize the nonprofit industry because most donors already have smartphones, and this will be the most convenient and secure way for them to donate. When the first smartphone emerged in 2008, only 22% of the US population owned these devices. As of Q2 2014, that number has climbed to 71.4%. While mobile commerce only makes up a relatively small portion of total e-commerce revenues, this channel has large growth potential. As of Q2 2014, mobile commerce accounted for 11.1% of all U.S. online sales. Currently, 9% of American adults have made a charitable donation with a cellphone.
"Apple Pay will be a catalyst for mainstream adoption of online and mobile donations as a primary mechanism for supporting nonprofits. Online and mobile fundraising is a clear way forward for organizations across a variety of causes. Stored financial information means donors won't even have to take out their credit cards, enabling a quicker, more streamlined donation experience." – Sean MacNeill, MobileCause CEO
Apple Pay is the latest evolution of near field communication technology in which users tap their device against a payment terminal to make a transaction. What makes NFC work is that users credit/debit card information is stored in a mobile wallet within the phone. This process is as easy as swiping a credit card. Mobile wallets used for NFC are relevant to fundraisers because they also work for mobile transactions. Because users' card information is saved securely on the device, the data auto-populates donation forms with card and personal information, reducing the time it takes to make a transaction. The Pew Research Internet Project estimates mobile payments will overtake both cash and credit cards by 2020.
Some people have been reluctant to adopt mobile payments because of perceived concerns about the security of this channel. To reduce the risk of fraud, Apple Pay uses a device account number token and a transaction specific processing code, that make mobile payments more secure than traditional credit/debit card payments. Additionally, Apple does not track transaction or store financial data, which makes donating more secure than ever before.
About MobileCause:
MobileCause is a cloud-based online fundraising platform designed to help organizations gain new donors, increase recurring gifts and engage supporters. Platform services strengthen fundraising and communication across mobile, social and online channels. Solutions include peer to peer fundraising, comprehensive online giving, dynamic event fundraising, text to donate keywords, mobile marketing and smart data records. Organizations can be up and running in one day with no technical skills required.
Please download "The Future of Mobile Payments" white paper and infographic at https://www.mobilecause.com/apple-pay-donations-inforgraphic-download/