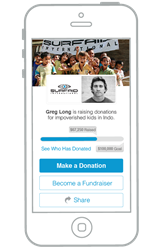 Volunteers can setup fundraising pages in minutes from the convenience of a smartphone, tablet or PC.
Calabasas, CA (PRWEB) October 14, 2014
MobileCause, a mobile, social and online fundraising and communications provider, is pleased to announce the launch of it's newest solution Volunteer Fundraiser. Until now, peer to peer fundraising has been difficult for organizations to configure and problematic for individual fundraisers. MobileCause's newest solution enables organizations to configure peer to peer fundraising campaigns in minutes. Individuals can then set up their pages from the convenience of a smartphone.
In an increasingly mobile environment, organizations need new technologies to transform volunteers into fundraisers. Setup and promotion complexities inherent in peer to peer fundraising have contributed to slow adoption rates. MobileCause's new feature, Volunteer Fundraiser, is included with all MobileCause plans at no additional cost.
"We believe that mobile has unlocked the potential of peer to peer fundraising. Volunteer Fundraiser puts our customers in a position where they can conveniently raise donations through the networks of their constituents." -Sean MacNeill, MobileCause CEO
Each volunteer fundraiser page contains a personal photo, a call to action and a thermometer with the goal. All pages are mobile responsive to render nicely on phones, tablets and PCs. The average peer to peer fundraiser raises 568 dollars. On average 4 out of 7 people who make peer-to peer gifts are new donors to the organization. Members of Generation X (born 1965-1979) are the age group most likely to fundraise on behalf of a charitable organization. The Millennial Generation (born 1980-1994) are the most active on mobile and social media and tend to volunteer and give to causes that they feel most connected with.
As volunteers set up pages, MobileCause has made it easy to share calls to action across text, social media and email. Additionally, each fundraiser receives their own text to donate keyword. When friends and family text their keyword (Example: REDCROSS24) to 71777 they receive an immediate reply with a link to the individual's fundraising page.
Organizations can view how many fundraisers they have and how much has been raised in real-time. All donations are 100 percent secure and are remitted to organizations twice per month. MobileCause customers are also encouraged to take advantage of introductory 0 percent transaction fees for peer to peer fundraising.
"Volunteer Fundraiser is designed to unleash the power of peer to peer fundraising for small to large organizations. Volunteer Fundraiser not only helps organizations raise more money, it helps organizations keep supporters passionate and engaged." -Gerard Mackey, MobileCause CTO
About MobileCause
MobileCause is a cloud-based platform designed to help organizations gain new donors, increase recurring gifts and engage supporters. Subscriptions strengthen fundraising and communication across mobile, social and online channels. Solutions include peer to peer fundraising, comprehensive online giving, dynamic event fundraising, text to donate keywords, mobile marketing engagement and smart data records. Organizations can be up and running in one day with no technical skills required.
To learn more about MobileCause peer to peer fundraising, please visit https://www.mobilecause.com/peer-to-peer-fundraising/