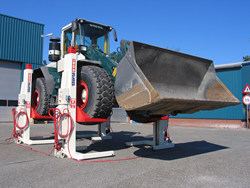 ST 1065 is ideal for servicing heavy duty vehicles in mining, construction, agriculture and other sectors utilizing large, off-road, heavy duty vehicles.
Stevensville, MD (PRWEB) June 19, 2014
Stertil-Koni, the leader in heavy duty vehicle lifts – notably bus lifts, truck lifts and U.S. Military vehicle lifts – today announced the North American rollout of the company's ST 1065 mobile column lifts, a lifting technology specifically engineered for safely raising industrial, off-road vehicles with large wheel diameters.
According to Stertil-Koni, the ST 1065, with a maximum lifting capacity of 14,500 lbs. per column, is equipped with extra wide forks that are 20 inches long and 30 inches wide, making it ideal for servicing heavy duty vehicles in mining, construction, agriculture and other sectors utilizing large, off-road, heavy duty vehicles.
This ST 1065 mobile column lift is able to accommodate vehicles with wheel diameters up to 71 inches. In addition, for vehicles with wheel diameters between 31.5 and 51 inches, reducer plates are available.
In making today's announcement, Stertil-Koni president, Dr. Jean DellAmore, noted: "The ST 1065 utilizes our extensive company expertise in hydraulic lifting technology and delivers it to an expanded range of industries that require safe, efficient and dependable vehicle lifting systems."
The ST 1065 reaches a maximum lifting height of 73 inches in just 89 seconds and is equipped with state of the art electronic control system which automatically speeds up and slows down for greater accuracy and safety.
The ST 1065 is available in three control system options, including a Wireless Option which delivers maximum convenience and access to the vehicle being lifted. This system minimizes setup time because no interconnecting cables are required, and safety is enhanced as the risk of operator tripping is eliminated. The ST 1065 is also available with:

Superior Controls: operating on commercial voltages permits the operation of up to 28 columns in a set with a fully functional control box on each column; and
Battery Controls, allowing operation of up to eight (8) columns in a set without a building power supply.
Regardless of control system, each Stertil-Koni ST 1065 mobile lifting column is indeed "mobile" thanks to the synthetic wheels and a hydraulic pallet jack mechanism, which incorporates a patented gas spring-- making the columns easy to relocate.
For added safety, the ST 1065 is ANSI/ALI-ALCTV 2011 certified and includes multiple safety features including automatic overload protection, independent mechanical locking system, and automatic stop when highest position is reached.
About Stertil-Koni USA, Inc.
Stertil-Koni is the global market leader in heavy duty vehicle lifts – bus lifts and truck lifts– and is the preferred supplier to the world's leading companies in the truck and bus industries. Stertil-Koni's breadth of products meets all ranges of lifting needs and includes mobile lifts, two-post, four-post, inground piston lifts, parallelogram lifts, half-scissors and its innovative axle-engaging, inground, scissor lift configuration, ECOLIFT. Stertil-Koni is also now installing Diamond Lift across North America, a full rise telescopic piston lift designed to set new standards in precision heavy duty lifting. Stertil-Koni is headquartered in Stevensville, Maryland and has a major production facility in Streator, Illinois.