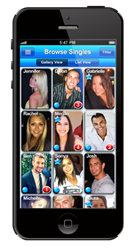 Razzou is the first mobile dating app of its kind. This is the future of dating.
New York, New York (PRWEB) September 12, 2013
RAZZOU, launching worldwide today in the iTunes App Store, is a next-generation mobile dating application for the iPhone. Mobile dating represents the newest trend in online networking. With an ever-increasing number of individuals using their smartphones to connect, dating has officially gone mobile.
Razzou utilizes location-based technology to connect nearby singles. Whether users are looking to find a date or to start a relationship, Razzou is the new destination to make a connection. Setting it apart from other mobile dating applications, Razzou appeals to a cosmopolitan audience, offering a number of cool and intuitive features within a chic aesthetic. Razzou features a modern design in vibrant shades of blue, reflecting a mobile dating experience that is youthful, sophisticated and, above all, exciting.
Functionally, Razzou offers users a wide array of features designed to create the ultimate mobile experience. By creating a profile, Razzou members can find a date or chat with friends. While on the go, the check-in feature allows users to find trending hot spots, view user comments, and even check out who's inside. For the jet-setting crowd, the Plan a Trip feature enables users to share travel plans with others prior to their date of departure. Importantly, numerous privacy settings shield users from undesired attention.
"Razzou is the first mobile dating app of its kind," says Wesley Breaux, founder and president of Innovative Mobile Technologies, Inc., the start-up launching the app. "The features in Razzou allow people to connect in a way like never before. This is the future of dating."
In order to develop this super-app, Breaux, 27, moved from New Orleans to Dallas. Pitching the idea to investors, he secured enough seed capital to set the project in motion. Seeking additional capital, he moved the company to New York City and managed to raise enough investment to pay for Razzou's six-figure price tag.
"Unlike other mobile dating apps, Razzou creates a dating experience that is sophisticated and in-depth," says Breaux. "Users can complete bios that include self-summaries, life achievements, and the connection they are seeking. With Razzou, you can find that meaningful relationship anywhere."
Razzou is offered in two versions. Razzou Lite is the free, limited version of the application. Razzou is the subscription-based version, providing users all of the premium features and support for just $14.99 per month. New users downloading Razzou will receive a 3-week trial pass to explore Razzou for free.
Innovative Mobile Technologies, Inc. is the Texas-based start-up launching Razzou and specializes in the creation and development of mobile applications. Razzou is the company's first smartphone application, with another mobile dating application in development. Razzou can be downloaded for free in the iTunes App Store or by visiting http://www.razzou.com.