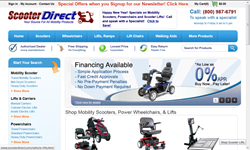 We have built an excellent reputation in our segment and the reasons for this are not hard to comprehend but is difficult to duplicate.
(PRWEB) January 02, 2015
Scooter Direct has addressed the mobility requirements of people more comprehensively and effectively than any other has. An online mobility equipment store par excellence, Scooter Direct offers an impressive range of lift chairs for long term as well as short-term disability. Quality is the forte of this online store and customer satisfaction is its prime objective.
One of the executives at Scooter Direct in a recent interview had this to say, "We have built an excellent reputation in our segment and the reasons for this are not hard to comprehend but is difficult to duplicate. We work hard to satisfy our customer needs by offering ready-made and custom products shipped directly to our customers. Our products are sourced from the most reputable and reliable manufacturers in the business including Pride Mobility and Golden Technologies. This ensures the quality of the product and enables us to generate savings that we share with our customers".
The entire range of lift recliners offered by Scooter Direct incorporate virtues like durability, reliability and affordability. At Scooter Direct, one can purchase exceptional two-position, three-position, infinite position, heavy duty lift chairs and lifting cushions at highly discounted prices. Scooter Direct includes a one year in-home service warranty with each lift chair and the option to upgrade some models up to three years. Impeccably designed, the offerings come in a range of colors and fabrics to match the home décor to perfection.
To offer some insight into the infinite position lift recliner on offer, the executive further stated, "One of our signature offerings, the infinite position lift recliner which can double as a bed or position you into the health benefiting trendelenburg position. Doctors recommend this position for many patients to promote recuperation. The infinite position or Zero-gravity lift chair recliners allows independent control the footrest and the back rest".
Economically priced starting at $599, chairs come in a variety of colors and styles and equipped with options such as head and lumbar pillows, heat and massage, left or right hand controls. All the above stated reasons make our online mobility scooter store the desired destination for those who wish to purchase a best in class lift recliner chair and best quality folding mobility scooter at reasonable prices.
About Scooter Direct:
With the base of operations in Odessa, Florida, Scooter Direct has emerged as one stop source for those who wish to purchase durable, functional and flexible mobility equipment at competitive prices. It provides a wide assortment of manual wheelchairs, power wheelchairs, mobility scooters, lift chairs, pool lifts, rollators, mobility accessories, and homecare products sourced from the most reliable and reputable manufacturers in the business. It is a customer-oriented supplier and offers a range of services meant to raise the buying experience of the customer. The mobility equipment store enables the customers to check and compare the price of electric mobility scooters and buy the one that meets their budget requirements.
Contact Information:
Scooter Direct, LLC
11431 Challenger Ave
Odessa, FL 33556
Ph. No: 1-800-987-6791, 727) 816-9772
Mail: info@scooterdirect.com
Web: http://www.scooterdirect.com/
###