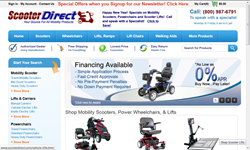 Our extensive inventory accommodates a wide assortment of exceptional yet cost effective lift chairs for partially as well as permanently disabled individuals.
Odessa, FL (PRWEB) January 31, 2015
Scooter Direct has recently inducted a range of superior lift chairs into their inventory, enabling the clientele to source these with ease. Catering to the diverse requirements of those with limited or no mobility, Scooter Direct has established itself in the industry. The company now offers an array of products characterized by quality, performance and durability. The mobility equipment supplier procures the products from credible manufacturers such as Pride Mobility, Drive Medical, Golden Technologies, Merits and EV Rider.
Discussing the lift chair range on offer, an executive with Scooter Direct said, "Our extensive inventory includes lift chairs for partially as well as permanently disabled individuals. Sourced from brands with global presence and credibility including Pride Mobility and Golden Technologies, these lift chairs are known for form and functionality. Various types of lift chairs are available including two-position, three-position, infinite position, heavy duty lift chairs, and lifting cushions."
The Pride LC10 2-Position Lift Chair delivers high performance and comfort with features like innovative arm design and overstuffed fiber-filled backs. The lift chair also incorporates patented quiet and smooth operation and stylish designs to boost the visual appeal of any home décor. Possessing a heavy-duty lift actuator & scissor mechanism, the product has 325 lbs. weight capacity. It is fire retardant and comes with integrated battery backup, which come in handy in an event of a power failure. Reasonably priced at $599.00, the product comes with standard, large dual pockets in addition to a 2-year warranty.
Talking about the Pride LC358XXL 2-Position Lift Chair available, the executive further stated, "One of our products is Pride LC358XXL 2-Position Lift Chair. It is a part of the Pride Heritage Collection featuring a slew of plush fabrics chairs. Heritage Collection Lift Chairs offer superb comfort, style and performance all at a great value. Priced at $1,369.00, the product incorporates innovative dual motor sync system. The patented sync system actively helps in keeping the inline motors synchronized, ensuring long lasting quality and performance."
As one may expect from a customer centric enterprise, Scooter Direct offers an array of credible services to complement its prolific product range. With them, one can purchase mobility scooters at best price. Through safe online payment gateways, reliable shipping, easy return policy, the mobility equipment provider strives to cater to the ultimate in customer delight. Scooter Direct is the ideal resource online for those who wish to get a range of off road mobility scooters.
About Scooter Direct:
Operating from Odessa, Florida, Scooter Direct is a reputable online mobility equipment supplier with a record of accomplishments. They provide a wide assortment of manual wheelchairs, power wheelchairs, mobility scooters, lift chairs, pool lifts, rollators, mobility accessories, and homecare products sourced from the manufacturers with proven credentials. One can also place an order for Hippocampe wheelchair online. The products on offer are high on quality, performance and durability. Therefore, Scooter Direct is the place to visit to get light chair from online sale at great prices.
Contact Information:
Scooter Direct, LLC
11431 Challenger Ave
Odessa, FL 33556
Phone: 1-800-987-6791 (Toll Free)
Florida: (727) 816-9772
Fax: (800) 648-7009
Email: info(at)scooterdirect(dot)com
Website: http://www.scooterdirect.com
###