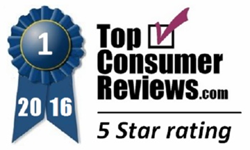 We appreciate all that SpinLife offers to customers, and we gladly give this retailer of Mobility Scooters our top rating in 2016.
Overland Park, KS (PRWEB) December 06, 2016
TopConsumerReviews.com recently gave a best-in-class 5 star rating to SpinLife, a leader among online retailers of Mobility Scooters.
Mobility Scooters give freedom to people who need help getting around. For some, advancing age has led to arthritic knees and balance problems. Still others may be facing a long period of rehabilitation after an illness or accident. There is a wide variety of scooters, from basic models made to get users from Point A to Point B, to deluxe versions that can handle even rugged terrain.
Finding the right mobility scooter at the best price can be a challenge when the shopping process is limited to local retailers; most stores carry only one or two preferred manufacturers, and limited supply can mean higher prices. Fortunately, mobility scooters can easily be purchased online, putting the best possible selection and prices in the hands of consumers.
"Based in Columbus, Ohio, SpinLife is the nation's largest internet retailer of mobility scooters," according to Brian Dolezal of TopConsumerReviews.com, LLC. "With a 110% price match guarantee and free shipping on all power chairs and scooters, it's easy to see why SpinLife is so popular. One of the most useful features of the easy-to-use website is SpinLife University: a collection of articles that include how to choose your scooter or power chair, differences between types of scooters, and interactive images that show customers exactly what to expect from each of their products. And SpinLife demonstrates a genuine commitment to their customers through annual scholarships and gift cards awarded to students who use manual or power chairs to get around. We appreciate all that SpinLife offers to customers, and we gladly give this retailer of Mobility Scooters our top rating in 2016."
To find out more about SpinLife and other sellers of Mobility Scooters, including reviews and comparison rankings, please visit the Mobility Scooters category of TopConsumerReviews.com at http://www.topconsumerreviews.com/mobility-scooters/.
About SpinLife
SpinLife is the largest direct-to-consumer, North American retailer of durable medical equipment. Since its founding in 1999, the company has built a sound reputation based on exemplary customer service, deep expertise, and vast product offerings that include the top brands of manual wheelchairs, electric wheelchairs, electric mobility scooters, walkers, wheelchair and scooter lifts, and lift chairs. In addition, SpinLife produces the only major national print catalog in the industry. SpinLife has earned the Gold Seal of Approval from The Joint Commission, the nation's leading accreditation organization for health care companies.
About TopConsumerReviews.com
TopConsumerReviews.com, LLC is a leading provider of independent reviews and rankings of hundreds of consumer products and services. From Mobility Scooters to Home Security and Medical Alert Systems, TopConsumerReviews.com delivers in-depth product evaluations in order to make purchasing decisions easier.