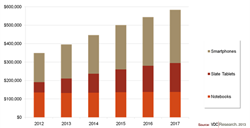 The enterprise mobile device market will be as enticing as it is challenging. - David Krebs, Vice President
Natick, MA (PRWEB) September 27, 2013
The race to mobilize workers around the globe will be enormously chaotic and disruptive to the technology vendor community, new research from VDC Research shows. In its annual global study of the mobile device market, VDC found that while the market for mobile devices deployed by business and government users will grow to USD 138.6 billion and 306.9 million units in 2017 from USD 116.2 billion and 220.4 million units in 2012, the happy story of growth disguises significant underlying turmoil. First and foremost, Microsoft's future as the OS of choice for enterprise-deployed mobile devices is very much in question, with recent missteps causing big problems for enterprises and device vendors alike. Both have been sidelined as they wait to see if Microsoft can sort out its mobile OS strategy. The result has been missed sales cycles for device vendors, and increasing frustration for handcuffed enterprises that are unable to evolve their mobile deployments as rapidly as they would like.
David Krebs, Vice President of VDC's Mobile & Connected Devices Practice said: "Windows-based product launches have been postponed, as has spending by enterprises, causing real problems for device vendors and enterprises who had previously committed to Microsoft. In the meantime, our research shows that a window of opportunity has been opened for Android and iOS in the enterprise, with interest in both on the rise."
The other big story surrounds hardware evolution. Notebook sales are indeed stagnating as tablets gain traction in many markets. And the future of ruggedized, special-purpose devices looks bleak in many markets, as falling prices and the broadening appeal of consumer-grade devices make it increasingly difficult for rugged device vendors to tell a compelling story. David Krebs said "The vendors who once owned the enterprise mobile device market – Panasonic, Dell, and others – have been hit broadside by the move away from notebooks and the challenges with Windows. Big cuts in defense spending have really hurt these vendors too. While we expect this category to turn around in 2-3 years, the short term pain will be considerable."
Despite these issues, VDC's research shows that market for mobile devices for enterprise applications will grow through 2017. "The backstory is really about who will benefit from this growth. Apple and Samsung, of course. But also a myriad of other Android based device vendors who are just starting to crack into the enterprise today."
To learn more about this research, please contact Mitch Solomon at msolomon(at)vdcresearch(dot)com.