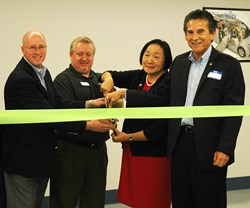 "Our clients appreciate having a local provider that can meet with them in person and understands their needs."
Oakland, CA (PRWEB) November 09, 2013
MobilityWorks held a ribbon cutting ceremony on Friday, November 8th for its new mobility van and equipment dealership located in Oakland. Mayor Jean Quan and City Councilmember Noel Gallo were on hand, along with representatives of various organizations in the community who serve people with physical challenges and disabled veterans. The van showroom, service bays, reception area and staff offices are housed in a newly renovated 14,000 sq. ft. facility are located at 1822 Embarcadero in an area known as Embarcadero Cove.
"We feel very fortunate to be able to help the people of the Bay Area who need our products and services. We have been successful in other regions because clients appreciate having a local provider that can meet with them in person and understands their needs." said Mark Magnus, MobilityWorks of Oakland General Manager.
A special attraction at the event was a wheelchair accessible motorcycle that brings wind-in-your-hair excitement to people with disabilities. Activities included a raffle, refreshments, equipment demonstrations and more.
With the addition of a new Oakland store, MobilityWorks now has 30 showrooms in 12 states. Eight of the locations are in California. The local showrooms and service centers are important to the community and allow MobilityWorks to fit specific equipment tailored to the end user in a van. This is especially important if the person with a disability plans to drive independently with the use of alternative driver control systems. The vans also require specially trained technicians for routine maintenance and repair.
"MobilityWorks employs specially trained Certified Mobility Consultants to help explain and demonstrate all of the options we have available," added Mr. Magnus. "It's important that they experience the products in person before making a decision to purchase. It's a very critical step that you can't duplicate by reading something on the internet."
MobilityWorks' store hours will initially be from 8 a.m. to 5 p.m., Monday through Friday, with Saturday scheduling available by appointment. The public is invited come in and ask questions at any time during regular business hours. To meet with a consultant, visitors can call the local number at (510) 927-3187 to schedule an appointment.
About MobilityWorks
MobilityWorks (aka WMK, Inc) is an Akron-based Inc 500 company with more than 350 full-time employees throughout the country. Founded in 1997 with one location, MobilityWorks now has 30 showrooms in 12 states. They are listed on the Inc 500|5000 list of Inc Magazine's fastest growing privately held companies. The Commercial Division, also headquartered in Akron, Ohio, is the largest converter of full-size wheelchair vans in the country. In addition to selling new and pre-owned accessible vans, scooter lifts and hand controls for adaptive driving, MobilityWorks has accessible vans for rent, mechanical repair services, and financing programs at all its locations. For additional information about MobilityWorks, go to MobilityWorks of Oakland.
MobilityWorks Media Contact: Guy A. Hanford | Director of Marketing | Ph. 330-633-1118