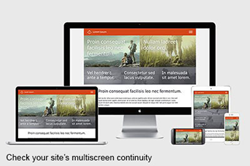 I like using the Mobilizer Device Lab to ensure that my breakpoints are executed properly and look good on mobile devices. Brett Johnson, Designer
Austin, TX (PRWEB) November 11, 2014
Ivity Labs, a start-up in Austin, TX, has launched the follow-on release to their wildly popular desktop product called Mobilizer. The latest version is now a SaaS tool that empowers mobile developers and designers by allowing them to render responsive websites, showing them exactly how they will appear on a wide range of popular devices.
A spinoff of Springbox, Ivity is dedicated to developing product solutions which address many of the shortcomings experienced by digital creative professionals with the tools they use every day. In fact, Mobilizer was developed initially for internal use by Springbox to serve their own clients who were interested in maintaining multi-screen continuity of their website designs. It is this kind of real-world use informing the product development process, which really sets Ivity apart.
The Mobilizer service itself is broken into two distinct products, Mobilizer Canvas and Mobilizer Device Lab. Canvas was created primarily for designers who are interested in visualizing their website design inside the device shell and arranged side-by-side. A great way to show-off their work, they can easily download this image for upload into their existing online portfolio.
Mobilizer Device Lab is geared towards the web developer interested in gaining a "pixel-perfect" result for how their responsive website will appear on actual devices. The image generated displays a higher resolution version of the rendered screens along with "fold lines" to indicate the bottom edge of the device's screen. In addition, a web developer can also run a device report, letting them get important statistics per device including site load time, the physical screen size, screen resolution and the year the phone was released.
Ivity CTO Todd Berry stated, "The new rev of Mobilizer is a game changer for designers and developers. They'll be able to test their work, check their breakpoints and launch their experiences for all the latest devices."
Visit the Mobilizer website to learn more about the tool.
To see how your site looks across screens, visit Mobilizer Canvas and enter your URL directly.
You can also sign up for a free trial for Mobilizer Device Lab.
Founded in 2014 and based in Austin, TX, Ivity Labs creates and develops SaaS products that meet the needs of digital professionals. They focus on developing innovative tools that increase productivity and efficiency for everyday tasks encountered by people working in the digital space. The Board of Directors for Ivity Labs includes Tom West, Sam Decker, and Dan Silmore.
For more information about Mobilizer or Ivity Labs, please contact Steve Muccini at 512-391-0065.