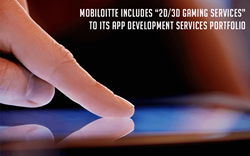 We Build Experience that Engage - No matter it is an educational kids, online card or strategy gaming
New Delhi, Delhi (PRWEB) December 07, 2015
Premier full service Enterprise Web and Mobile service provider Mobiloitte has announced its readiness to enter the mobile game development segment. The company is expanding its web (Drupal, PHP, WordPress, ROR, Magento, etc.) and mobile (iOS & Android via native and cross-platform approach) app development services to the mobile gaming segment.
Mobiloitte is launching its 2D and 3D mobile game development services with great zeal and optimism. The company has a team of experienced game developers who have shown tremendous enthusiasm in unraveling the company's ambitions. The company has revealed that it is bestowed with innovative technologies like Unity3D, Cocos2Dx, Corona, etc., and latest tools vital for creating 2D/3D Games. With the right experience and expertise in app development, games will be aptly designed to meet the screen resolution and technical specifications of user's mobile devices.
Additionally, Mr. Rupak Agarwal, Director - Business Development at Mobiloitte, provided more information on the announcement by saying, "Market studies have revealed promising forecasts about the gaming app industry, whereby, the gaming market is estimated to cross the revenue of $76.5 billion by 2017. In our opinion, the timing of our launch of 2D/3D interactive mobile games is ideally right. This innovation will drive users to experiment upon new gaming apps. Our dynamic contribution to the mobile game app industry will surely heighten the current estimates."
Features of the pending interactive mobile game development services include:

Cross platform 2D/3D computer graphics software/program
Flexible plug-in architecture
Effective designs with integrated development tools
Open source or multiple source game framework
Interesting modelling capabilities with animation & interactive applications
Multi-player, single player and multi-level games
The ability to generate games for multiple platforms as per client's specifications & requirements
Game Development Options @ Mobiloitte
Mobiloitte has confidently expressed its determination to rule the heart of millions of mobile users by offering them world-class game development services in both 2D and 3D platforms. The mission of the company is to engross users by inputting interactive features, mind-boggling generic puzzles or interesting storylines in the mobile game software.
About Mobiloitte
Mobiloitte has carved its niche as Web & Mobile App Company by offering world-class native as well as cross-platform mobile apps services for enterprises and entrepreneurs. The growing years in this segment has enhanced its experience in dealing with clients from across the world in diverse business verticals and interests; naming a few – education, music, sports, trivia, casinos, and adventure etc. The company has dedicated over a decade in transforming the face of digital & mobile world by providing services in various platforms like iOS, Android, ROR Titanium, PhoneGap, NodeJS, ionic, and pioneers in IOT, offering integration of iBeacon, Augmented Reality and other features. Their services have helped clients in augmenting their business growth and revenue generation. With its 2D/3D interactive mobile game developing services, Mobiloitte is evolving a digitally innovative chapter of booms & bangs in this progressive segment.