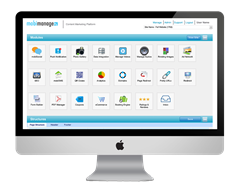 Our goal simply is to provide marketers with a one-stop solution to generate revenue and get the most out of any mobile investment.
Scottsdale, AZ (PRWEB) September 18, 2014
mobiManage, a leading interactive software agency that designs web, mobile/tablet, kiosk and app solutions, is pleased to announce the launch of a new Push Notification module within their Content Marketing Platform. The new module handles app push notifications, Geo-fenced messages, Wi-Fi notifications and iBeacon messaging.
Clients and outside developers can sign up directly through mobiManage.com to gain access to the new module within the mobiManage Marketing Dashboard. The dashboard facilitates easy implementation of multiple notification options and selection of the best push notification medium for app and marketing campaigns. Push notifications are available in different monthly packages; including unlimited messaging options and quick start iBeacon solutions specifically built for retail and proximity-based awareness campaigns. All of the proximity services work via any new or existing app technology and provide marketers with direct GEO and proximity-based notifications and reminders. mobiManage offers clients an easy to install SDK for both Apple and Android products, providing instant notification contact through any app. An added included benefit to clients is free phone and online training/support for both the setup and marketing processes; coupled with a complete analytics and backend reporting solution.
"The beauty of our Marketing Platform has always been providing one centralized solution to manage any digital asset from apps to kiosk products. But the true competitive edge of our system is the marketing tools. With this latest announcement, app clients and developers can now choose from three options to connect with users and increase the marketability of their apps. Our goal simply is to provide marketers with a one-stop solution to generate revenue and get the most out of any mobile investment," said Douglas Ralston, President and CEO of mobiManage.
The push notification module within the CMS marketing platform handles a multitude of tasks. Clients can send one-off messages in real-time, schedule targeted messages for specific dates and times and also customize content and messaging by a user's location and preferences. Additional notification options include iBeacon (Bluetooth 4.0) for areas that have coverage issues and utilizing Cisco Wi-Fi MSE networks to customize solutions for hotels, casinos and large scale facilities.
About mobiManage:
Headquartered in Scottsdale, Arizona, mobiManage mobiManage is a software agency that designs and develops web, mobile/tablet, apps and interactive kiosk solutions; all integrating into a central marketing and management software platform. mobiManage's platform easily integrates with any CRM /CMS and existing digital assets, providing integrated tools for driving digital engagement across any device. Our mission to drive value through our software tools and marketing experience providing engaging, affordable digital marketing solutions that are easy to manage across all platforms while ensuring brand and market identity. Clients include CVS/Caremark, Cold Stone Creamery, Visit Orlando, Shea Homes, Prudential Properties, San Diego Convention and Visitors Bureau, Choose Chicago, DuPont and more.
Visit http://www.mobimanage.com for more details.