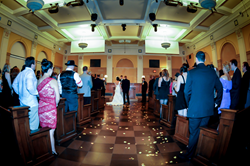 We wanted something non-traditional in a venue that was unique...
Las Vegas, NV (PRWEB) August 26, 2014
The Mob Museum in downtown Las Vegas is the hottest new wedding destination. An exclusive new partnership with Vegas Weddings allows couples to get married in the very courtroom where one of 14 national hearings to expose organized crime was held in 1950.
Couples who want to pay homage to "Old Vegas" and share an interest in its roots in organized crime will delight in this package, that allows up to 20 guests and includes all day passes to the thrilling museum.
The basic "Married at the Mob" package offers a choice between the historic courtroom or the museum steps to get married, and also includes transportation, flowers, a personal coordinator, 18 photos taken during your ceremony, and all day passes to the museum for up to 20 guests. The Deluxe package offers all of that and increases photo options, by providing a full photo shoot throughout the museum and allowing couples to take home all of the photos. For couples that want their ceremony in a more traditional setting, but want to take photos in a fun location afterwards, an add-on photo shoot option at the museum is also available. This can be combined with a wedding ceremony package at Vegas Weddings, or even as an engagement session. Wedding packages taking place at the museum start at $1999 and add-on wedding photo packages at the Mob Museum start at $1099.
The first couple to take advantage of the new "Married at the Mob" package with Vegas Weddings was Machario Thomas and JoAnn Chan, from Frisco, Texas. They were married on July 31st, 2014.
"We wanted something non-traditional in a venue that was unique, and when we saw the package…we knew immediately that was what we wanted," said JoAnn. The couple got into the spirit by wearing vintage clothing and having a great time creating unique memories with the professional photo shoot throughout the museum. "Everything was great- from the limo picking us up at our hotel, to the last photo being taken at the museum," commented Machario. Deborah Chan, mother of the bride, was pleased at the inclusive package offerings and the ease of which the wedding was planned, even though they were out-of-state.
The Mob Museum's sales manager, Nancy Nomile, expressed her excitement at having partnered with Vegas Weddings to facilitate ceremonies at the museum. "The Museum is delighted to be able to offer Vegas Weddings packages to our patrons as a very special way to build their wedding and vow renewal memories!"
For more information on the Married at the Mob Museum Wedding / Vow Renewal Packages go to http://www.VegasWeddings.com or email info(at)VegasWeddings(dot)com.
ABOUT VEGAS WEDDINGS
Vegas Weddings was founded in 2001 with its original chapel, Vegas Wedding Bureau, located at 320 S. 3rd Street. In 2008, Cliff Evarts, President and Founder, opened a new $4 million chapel with over 9,000 square feet on the corner of 3rd and Bonneville. Both Vegas Weddings' beautiful Las Vegas Wedding Chapels are near the marriage license bureau and only blocks from Fremont Street. Vegas Weddings also has numerous wedding locations all around Las Vegas as off-site venues. Vegas Weddings has been named as the 2014 'Best of Las Vegas' Wedding Chapel by Nevada's largest newspaper, the Las Vegas Review Journal.  More importantly (and the basis of their inspiration) they have been rewarded with thousands and thousands of satisfied and happy vow renewal and wedding couples. Vegas Weddings is located on the corner of South 3rd Street and Bonneville, across from the Marriage License Bureau, only blocks from Fremont Street and is open 365 days a year from 8am until midnight. For more information on weddings, vow renewals contact Ann Parsons, Marketing Director, at 702-933-3464 or info(at)vegasweddings(dot)com. Visit VegasWeddings.com for more information from our wedding coordinators that are available through the Live-Chat feature to answer any questions 365 days a year. They can also be found on Twitter @WeddingsVegas and Facebook at http://www.Facebook.com/VegasWeddings.
ABOUT THE MOB MUSEUM
The Mob Museum is a world-class destination in downtown Las Vegas dedicated to the thrilling story of organized crime and law enforcement. It presents an exciting and authentic view of the Mob's impact on Las Vegas history and its unique imprint on the world. True stories of Mob history are brought to life in a bold and contemporary style via engaging exhibits, high-tech theater presentations and more than 600 artifacts, the largest collection of Mob and related law enforcement memorabilia under one roof. Since opening in 2012, The Mob Museum has accumulated numerous accolades, including being named one of "20 Places Every American Should See" by Fox News and Budget Travel magazine, "Las Vegas' Best New Attractions for 2012" by Travel + Leisure magazine, "9 Reasons to Visit Las Vegas" by CNNgo, a finalist for the "Best Wider World Project Award," by the British Guild of Travel Writers and "Best Museum" by Nevada Magazine and the Las Vegas Review-Journal. Admission is $19.95 for adults ages 18 and over with special pricing for children, seniors, military, law enforcement, Nevada residents, and teachers. Museum hours are Sundays through Thursdays from 10 a.m. to 7 p.m.; Fridays and Saturdays 10 a.m. until 8 p.m. For more information, call (702) 229-2734 or visit http://www.themobmuseum.org. Connect on Facebook: http://www.Facebook.com/themobmuseum  and on Twitter: @TheMobMuseum.