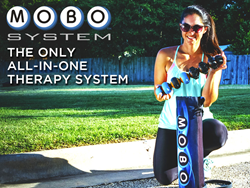 MOBO System is the Swiss Army® Knife of Physical Therapy, Massage and Mobility
Austin, TX (PRWEB) October 01, 2014
Just over a year ago, Christie Powell (PT, MSPT, STS, USSF "D") set out on a mission to reverse the negative physical effects of both daily routines and intense exercise. She threw together some ingenious homemade products that would relieve the pain and stress that face millions of hard working Americans. Whether they are sitting at a desk, commuting or standing all day, many workers tend to get text neck, back pain, shoulder pain, headaches, plantar fasciitis, and everything in-between. CP's handmade products were also great for athletes who had issues squatting below parallel, difficulty with overhead squats, shoulder issues moving weight overhead, doing pull-ups, or frequent muscle pain and tightness.
Cosmo Raines, an inventor and serial entrepreneur, took CP's ideas and turned them into the most advanced, comprehensive and cost-effective product for personal, manual, soft tissue and joint therapy. In order to get MOBO System to market, they launched their idea via Kickstarter on Sept. 29.
MOBO System's elegant and user-focused design enables individuals to restore and maintain efficient, pain-free body movement. MOBO System is:
Innovative gear - MOBO is the worlds first All-in-One, Travel Ready, Mobility Device
Smart Design - MOBO condenses over 40 mobilization tools into one convenient toolkit which can transform into whatever tool you need
Do-It-Yourself - MOBO can be used by anyone and everyone with a few simple directions between massage, chiropractor or physical therapy visits
Supremely Effective - accesses hard-to-reach spots, increases range of motion, and relieves pain and stress
Christie Powell is ready for her device to take the world by storm. "It does everything! Each different configuration has something great to offer. For example, MOBO DUO is a precise tool for applying localized, precise pressure to the neck and T-spine. The MOBO PRIMO configuration gets into your traps, pecs, glutes, and hip flexors to relieve those hard-to-get-to tight muscles and stuck fascia. MOBO System is designed to assist with self myofascial release (SMR), pin and release techniques, hands-free therapy techniques, chiropractic work, massage, physical, sports, and occupational therapy."
Of his latest invention, Cosmo said, "MOBO ULTIMO is the Swiss Army® Knife of Mobility. There's really nothing it can't do. Because it can be configured into over 40 different mobilization, therapy and recovery tools, there's a tool in there to relieve pretty much any ache or pain. From foam rollers to trigger point balls - it has everything you need for relief and performance. We look forward to MOBO helping millions of people."
About MOBO System: MOBO System is a physical therapy equipment company based in Austin, TX. Founded in 2014, the MOBO system has quickly become one of the most highly anticipated devices as it combines the physical therapy expertise of Christie Powell and the brilliant, simple designs of Cosmo Raines. MOBO System advisers include: Peter Shankman, Bryan Eisenberg, Diane Vives, David Norton, and Karen Smith.