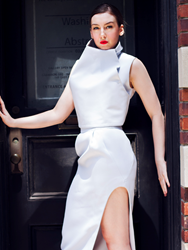 "Moda360 is such a gem of a fashion event, as it creatively unifies art, fashion and video in such a way that provides emerging designers and artists the most artfully interactive platform.
Philadelphia, PA (PRWEB) January 09, 2015
MODA 360 is an innovative platform providing independent designers promotion and support outside of the fashion calendar, giving them exposure to an audience that might miss them during busy fashion and market weeks. MODA 360 is committed to supporting emerging fashion designers in all categories and artists in all media. Videos by talented filmmakers will be featured at the event, on the MODA 360 website and online video channels. Incorporated in fashion exhibits are the work of fine artists, furniture and interior designers and textile and multi-media artists. MODA 360 presents fashion as art, and art as lifestyle.
MODA 360:LA will take place April 24 and 25, in celebration of Earth Month, and will spotlight sustainability in design and encourage all artists and designers to explore sustainable principles in their work. MODA 360 welcomes the return of natural skin care sponsor Bel Essence for this special presentation. To encourage more emerging creators to participate, Bel Essence will offer designers and artists an opportunity to receive a discounted rate for the event, paying up to 40% of the participation fee directly to Moda 360. Designers and artists interested in exhibiting may request applications to participate in the event and apply for a scholarship. The scholarship is open to any independent international designer or artist juried by MODA 360. "Bel essence is proud to support emerging designers, artists and filmmakers and we are committed to making it possible for talented creators to participate in this great event. We are especially excited to sponsor the Los Angeles edition taking place during Earth Month. Bel essence strives to create products that use natural and organic ingredients for the best health of our customers, and we are looking forward to sponsoring this special Earth Month presentation spotlighting designers and artists who follow ethical and ecological principles." Chris Williams, Marketing and PR specialist for bel essence skincare.
MODA 360 also welcomes the return of media partner Linger Magazine and will include the winner of their annual editorial competition in the art presentations, and a special event to mark the relaunch of the magazine. "Linger Magazine is a proud media partner of Moda360. Moda360 is such a gem of a fashion event, as it creatively unifies art, fashion and video in such a way that provides emerging designers and artists the most artfully interactive platform that is a missing, yet much needed, element in the fashion industry. It is a joy to partner with an event whose mission mirrors our very own." Tiffany Tate, Founder/Editor-in-Chief of Linger Magazine.
About Bel Esprit - The Bel Esprit Showroom showcases international designers of ethical fashion, and the sister showroom, Showroom International, presents the collections of international independent designers. The showrooms offer 30 years of industry experience identifying and assisting the needs of both designers and retailers to facilitate a strong business relationship, and partner with international fashion industry organizations and events to give independent designers maximum exposure. Bel Esprit promotes ethical principles through education to designers, retailers and consumers, and, through a number of global initiatives, works to create and develop more ethical resources for the fashion industry. Learn more at http://www.BelEsprit.net.
About bel essence - Bel Essence (http://www.belessence.com) is a natural skin care collection based on a simple idea: give skin the nutrition it needs to heal, regenerate and rejuvenate itself. Bel Essence combines natural and organic oils that are the richest sources of vitamins, antioxidants, omega 3's and fatty acids, the essential components for healthy, youthful skin. Bel Essence gives skin what nature intended and selects and combines oils with beneficial properties to maximize results without harmful chemicals and colorings. Natural oils, known for their skin health benefits, are combined to treat and nourish skin, giving both instant improvement and long term transformation.