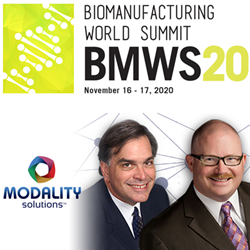 It's our mission to share our cold chain validation best practices that will help industry leaders understand the changing industry standards and how to integrate risk management processes with validation best practices to ensure compliance, quality, and product integrity," said Gary Hutchinson
HOUSTON (PRWEB) November 10, 2020
Modality Solutions, a biopharmaceutical cold chain engineering firm, is pleased to announce its sponsorship and transport simulation testing workshop at the BMWS2020 - Biomanufacturing World Summit virtual conference, November 16-17, 2020. Modality Solutions will have a virtual trade show booth and take part in one-to-one pre-arranged meetings.
Biomanufacturing World Summit is the industry's leading collection of manufacturing executives, thought leaders, and innovators. The annual conference brings together pharmaceutical executives, operations executives, quality and supply chain directors of manufacturing, and cutting-edge technology providers for North America's premier biologics event.
The 2-day conference will focus on:

Industry challenges and opportunities
Quality as a culture, QbD and ICH Guidelines
Capacity management
Supply chain management
New processes and technologies.
Modality Solutions' principals Gary M. Hutchinson and Daniel J. Littlefield will present "Transport Simulation Testing of Your Therapy: A Better Approach Than 'Real World' Shipping Tests" on Monday, November 16, 12:00 p.m. in Room 3.
During the session, attendees will take away valuable information, including:

Accelerated, sequential testing (e.g., ASTM, ISTA) is no longer acceptable by the FDA for drug product testing.
Real-world testing cannot test the "worst-case" edges of your operating space.
Real-world testing in the post-COVID-19 world will be difficult and expensive.
Co-founded in 2011 by Hutchinson and Littlefield, Modality Solutions is a global biopharmaceutical cold chain validation engineering firm. It supports fast-track regulatory approval for biologics and specialty therapies. As industry logistics network experts, it provides engineering services focused on the qualification of thermal packaging, the selection of monitoring & controls systems, the execution of transport validation, the design of controlled-environment logistics, and the operational support for clinical trials.
"Our sponsorship and workshop at the BMWS20 support our continued commitment to helping the global biopharmaceutical industry collaborate on new approaches to similar challenges," said Modality Solutions President Gary M. Hutchinson. "Today, more than ever, with complex regenerative medicine therapies, the biopharmaceutical industry is faced with the pressure to focus on the patient as they improve the complex logistics needed for these life-saving products. It's our mission to share our cold chain validation best practices that will help industry leaders understand the changing industry standards and how to integrate risk management processes with validation best practices to ensure compliance, quality, and product integrity."
Executive Platforms is the BMWS20 conference producer. It facilitates sharing ideas among the senior leadership of businesses and organizations with shared objectives, interests, and challenges. With decades of experience, EP works to elevate the conversation and provide all its stakeholders with a trusted platform to network, benchmark, learn, and grow together to inspire success in their working lives.
For more information or to register for the BMWS20, go to https://www.biomanworld.com.
To learn more about Modality Solutions, visit https://www.modality-solutions.com.
About Modality Solutions, LLC
Founded in 2011, Modality Solutions, a leading biopharmaceutical cold chain validation engineering firm, specializes in integrating cold chain operations, developing transport validation strategies, supporting global regulatory applications, and global clinical trial operations. By combining the best practices of process validation, systems qualification, and risk assessment, Modality Solutions has earned the reputation of ensuring regulatory compliance, drug product quality, and patient safety. As a 2019 and 2020 Inc. 5000 and Houston Business Journal Fast 100 company, Modality Solutions' team of engineers are experts at delivering cold chain thermal packaging design and qualification, conducting transport simulation testing with its Advantage Transport Simulation Laboratory™, and designing controlled environment-logistics solutions. For more information, visit https://www.modality-solutions.com.