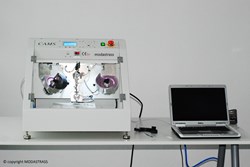 Streamlining production through automation is a top priority in business process management.
(PRWEB UK) 10 February 2014
Traditionally, rhinestone production has been a time-consuming manual labour process with a critical cost factor – especially for rhinestone business owners who are just starting out in the trade. Modastrass' new robotic bling machine renders the manual stone setting process obsolete with advanced CAM Computer-Aided Manufacturing Technology.
The robotic bling machine lays rhinestones directly onto silicon transfer paper, so workers only have to heat press the motif onto the garment. Its ability to quickly and accurately produce Swarovski Crystal Rhinestone Transfers gives rhinestone businesses or t-shirt shops an advantage over the competition.
"In Austria, workers' wages are high, so we let machines do the job. Automating this expensive and time-consuming process will allow local businesses to compete with large scale East Asian exporters of rhinestone transfers," says Klaus Jäger, Jr. Key Account Manager of Modastrass.
The desktop JCD1 model's compact size allows businesses to fit their entire rhinestone t-shirt production in a small space. It can produce one average rhinestone motif (150 stone crystals) per minute using up to 2 sizes or colours simultaneously. The JCD4 model has a maximum setting speed of 600 stones per minute and can produce up to 6 different sizes or colours at once.
The included Strass Design software allows for the creation of custom designs on any Windows desktop PC as well as hassle-free transfer to the robotic bling machine over USB. It is simple to use and maintain, making it ideal for start-ups or entrepreneurs with no graphic design or mechanical background.
By producing Swarovski Crystal transfers, businesses can join one of the most lucrative niches in decorated apparel, next to embroidery or screen printing.
This fully automated rhinestone machine helps designers transform any creative vision into something tangible, wearable and profitable for the value-priced apparel or wearables marketplace.
About Modastrass
Modastrass a brand owned by Jaeger Crystal Distribution GmbH (https://b2b.modastrass.de/) is a preferred supplier of Swarovski Elements for many high street fashion designers. Swarovski is renowned worldwide for manufacturing 'products of precision' for artists and fashion designers since 1895. Modastrass supplies Swarovski Elements to creative communities, hobby fans and businesses for use in a wide range of embellishment applications. For more information, email info(at)modastrass(dot)com or visit the Modastrass website.