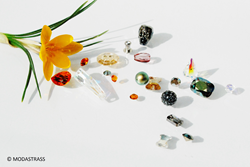 This innovation is a new wave. It's an inspiration.
(PRWEB UK) 17 March 2014
The "Traces of Time" range conjures memories of a simpler time, before technology gave way to the fast pace of modern life. The collection features four evocative themes that experiment with light, tactility and emotive colour variations: Faded Memories, Sunset Rituals, Vivid Moments and Forgotten Dreams.
Faded Memories' delicate, opaque hues and monochromatic designs embrace the kitsch appeal of summertime Americana. The classic Beads, Fancy Stones and Crystal Mesh Balls appear saturated in a subtle retro glow, reminiscent of old Polaroid photos and drive-in movies. Standout pieces like the Bow Tie Crystal speak to the playful innocence and humour of the era, offering optimal linear design and elegance.
Sunset Rituals draws inspiration from the rich earth tones used in ancient African and Asian tribal jewelry. Adventure and romance is found in the rugged, unpolished cut of the Skull Bead which follows the "perfect imperfection" trend, while the Crystalactite Pendant's almond shape adds elegance to any jewelry design. The vibrant tangerine, deep brown and golden sand hues of Sunset Rituals are a tribute to the awe-inspiring natural beauty of the desert.
Also channeling the exciting interplay between African and Asian culture, Vibrant Moments offers a more progressive look, focusing on polished beauty, vivacious colours and precision in craftsmanship. These beads, stones and crystal elements take inspiration from headwear, tapestries and embroidery of both continents to create an eclectic cross-cultural theme. Glimmering Pavé Balls and 3D Crystals create surprising patterns of light to complement an array of vibrant colour combinations.
Dark, sultry glamour is effortlessly conveyed in Forgotten Memories. The mystique of the Orient makes another appearance – this time in the form of opulent geometric patterns. Crystal Iridescent Green adds to the complexity of the dark colour palate and a large variety of sizes, from Mini Size Beads to oversized sew-on stones, gives designers limitless creative freedom.
From March 2014th. the "Traces of Time" Spring / Summer 2015 Swarovski Innovations will be available to order from the Modastrass website.
About Modastrass
Modastrass (https://b2b.modastrass.de/) a brand owned by Jaeger Crystal Distribution GmbH is a preferred supplier of Swarovski Elements for many high street fashion designers. Swarovski is renowned worldwide for manufacturing 'products of precision' for artists and fashion designers since 1895. Modastrass supplies Swarovski Elements to creative communities, hobby fans and businesses for use in a wide range of embellishment applications. For more information, email info(at)modastrass(dot)com or visit the Modastrass website.