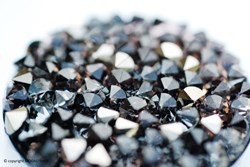 That's why Modastrass provides specialist advice to creative, design-minded hobbyists and artists to help achieve the perfect 'punk meets glam' look.
(PRWEB UK) 27 December 2013
The Punk Couture trend is a fusion of neo-punk street aesthetics and haute couture that allows fashion-forward free thinkers to embrace their inner rebel while indulging in lush, high-end glamour.
Radiating freedom, individualism and rebellion, the BeCharmed line extension range's edgy metallic shades combined with the purity and aggressive precision of world-renowned Swarovski's pointed crystals to create unique and striking fashion accessories. Peach Gold, the newest attention-grabbing effect for Crystal Fine Rocks, emanates a cool metallic shimmer while exquisite jewelry stones glow in hues such as crystal lilac shadow, dark moss green, smoked topaz and Montana blue.
The standout BeCharmed Pavé Spikes add instant punk appeal to any jewelry design and are ideal for both male and female designs. The crystal spikes are available in seven different effects and create an eye-catching juxtaposition of strong and delicate textures.
"The new BeCharmed assortment extension really embodies the Punk Couture movement, which is dominating catwalks and design shows all over the world at the moment," says Klaus Jäger, Jr. Key Account Manager of Modastrass.
This collection is perfect for creating a custom piece of jewelry or embellishing an old favourite with a punk-inspired edge. "Swarovski with its unlimited sparkling fantasy always has its finger on the pulse of what's happening in the fashion world. With the recent resurgence of punk, we're indeed seeing a new raise in demand for designs that reflect a rebel spirit. With a range as versatile as BeCharmed, the sky's the limit," adds Jäger.
In addition to helping identify the best application procedures, Modastrass, as an approved supplier of Swarovski components, carries the whole assortment of fashion and jewelry stones, including flat backs, sew-on stones, beads, rivets, chatons, beads, zippers, crystal transfers etc.
The pre-season Spring/Summer 2015 Swarovski Innovations will be available to order from the Modastrass website from 08.01.2014.
About Modastrass
Modastrass (https://b2b.modastrass.de/) is a preferred supplier of Swarovski Elements for many high street fashion designers. Swarovski is renowned worldwide for manufacturing 'products of precision' for artists and fashion designers since 1895. Modastrass supplies Swarovski Elements to creative communities, hobby fans and businesses for use in a wide range of embellishment applications. For more information, email info(at)modastrass(dot)com or visit the Modastrass website.