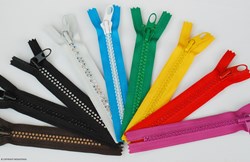 The Brilliant Zipper is a must-have piece for any stylish wardrobe and we are proud to feature this dazzling collection as Modastrass' Sparkle of the Month.
(PRWEB UK) 31 October 2013
The Brilliant Zipper is available from Modastrass in nearly 600 fabric and acrylic shades with more than 88 hues of Swarovski's patented XIRUS 1088 chaton crystals, which are embedded into the zipper teeth. Swarovski's X-Cut technology and ADVANCED CRYSTAL lead-free formula make these crystal cuts the most brilliant yet.
Built for durability and eye-catching glamour, the new line of sparkling fasteners is ideal for a range of applications, from hand sewing to embroidery, and is suitable for industrial as well as domestic sewing machines.
The Brilliant Zipper is both chic and practical, making it the standout piece this month in Modastrass' extensive range of bold and brilliant crystal elements designs.
"Swarovski is famous for quality and precision so it only makes sense that they would collaborate with the world-renowned japanese fasterners producer YKK for their latest creation. As usual they used their Weltklasse austrian hight tech kantian mind and technology to elevate a simple functional device like a zipper to a new level of attention. It's like a reinvention!" stated Klaus Jäger jr. Key Account Manager of Modastrass.
About Modastrass
Modastrass (https://b2b.modastrass.de/) is a preferred supplier of Swarovski Elements for many high street fashion designers. Swarovski is renowned worldwide for manufacturing 'products of precision' for artists and fashion designers since 1895. Modastrass supplies Swarovski Elements to creative communities, hobby fans and businesses for use in a wide range of embellishment applications. For more information, email info(at)modastrass(dot)com or visit the Modastrass website.