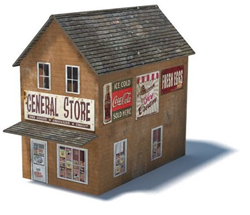 You'll be surprised how quick and easy it is to make this realistic-looking building for your model railroad.
Los Angeles, CA (PRWEB) July 07, 2014
Modelbuildings.org, a website that features over five dozen downloadable model railroad buildings, has just announced that they are now offering a free giveaway of the popular little General Store model. Model railroads enthusiasts can visit the site at any time and quickly and easily download the realistic-looking little building that will look right at home in any railway scene.
"There are no catches, no forms to fill in, and the plans for the building are free and easy to download," noted a spokesperson for Modelbuildings.org.
As the founders of the website know quite well, every model railroad needs convincing scenery and realistic scale buildings to bring the model trains layout to life. This is where Modelbuildings.org can help; by offering a wide selection of model buildings, fans of model trains can purchase the buildings they need to make their model railways look like actual towns.
The complimentary General Store can be easily downloaded in a PDF format and can be printed out right at home in OO scale, HO scale or N scale. For people who are new to the process, the Modelbuildings.org website offers easy-to-follow instructions that explain how to print out the sample building. The printout can then be glued to foam sheets, card or corflute and then assembled. In addition to the free sample, visitors to the site can also print out four signs that can go on the front of the General Store; model train owners simply need to add the one they like the best.
"The reason why the miniature model looks so realistic when glued together, is because the roof and sides of the building are photo-realistic giving it a real-life appearance rather than a designer look," the company spokesperson said, adding that the scale General Store building is perfect for a model railroad, and would also be suitable for diorama modelers, or for a school art project, or just for someone who enjoys making arts and crafts.
"You'll be surprised how quick and easy it is to make this realistic-looking building for your model railroad."
Anybody who would like to learn more about Modelbuildings.org is welcome to visit the website; there, they can download the complimentary General Store model as well as browse through the 60-plus other scale buildings that are available.
About Modelbuildings.org:
Modelbuildings.org has a range of over 60 downloadable scale buildings popular with model railroaders and other hobbyists. The range includes 3D models as well as several 3-sided models suitable for placement against a background to add realism to a scene. Unlike plastic models, the downloads don't require painting or weathering as those features are already included. For more information, please visit http://www.modelbuildings.org/free.html.